Batman Caped Women's Grey Knee-Highs Socks
$9.99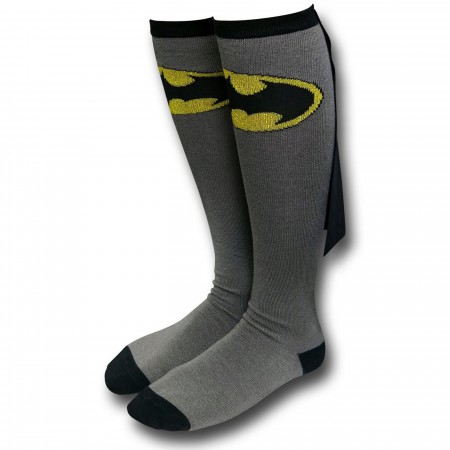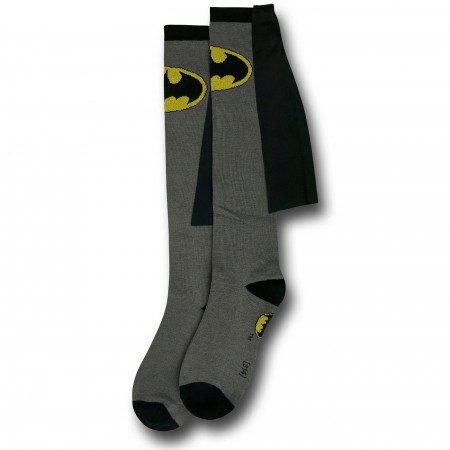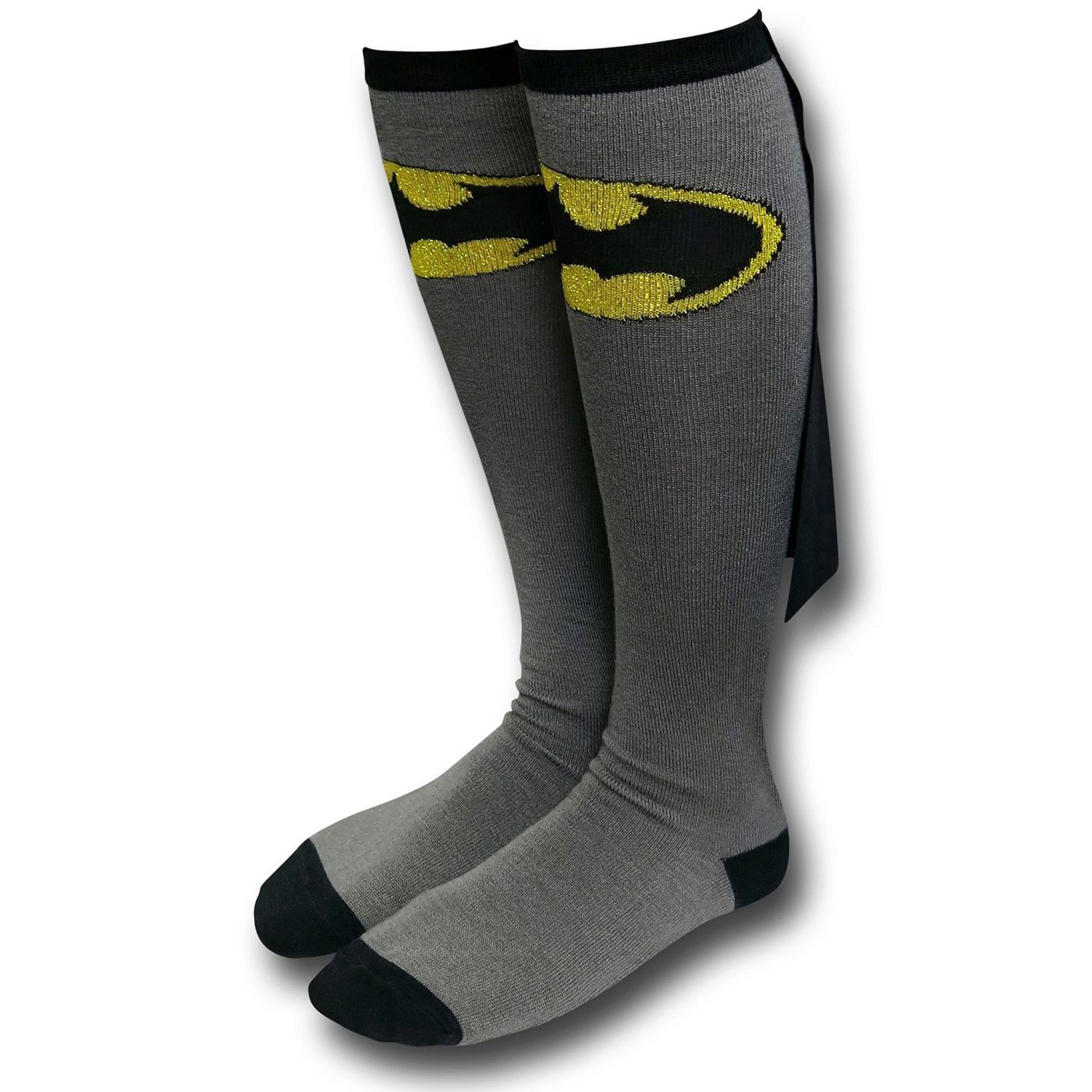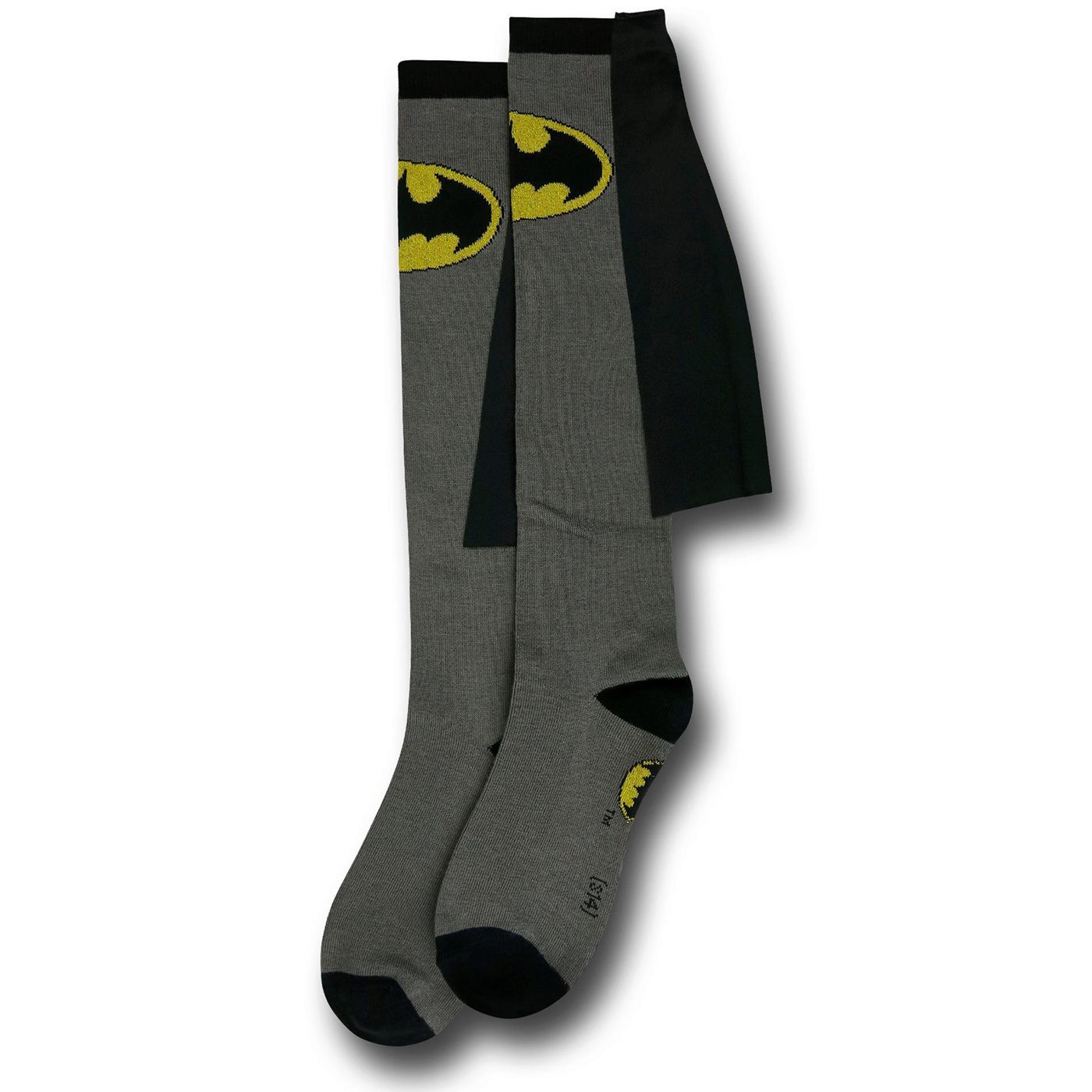 Batman Caped Women's Grey Knee-Highs Socks
$9.99
Shipping Guarantee
In stock items ship within 1 business day
Check out these black and gray, knee-high socks for more petite women, each adorned with the famous Batman symbol interwoven with shiny glitter-thread! And check out the cute little cape attached to the back of each sock! Holy CRAP that's freaky! I see what's happening here. This is...this is simulating the Batman costume! WOW! Oh, and check out the little, glitter-thread woven Batman symbol on the feetsies! CUTE! Ahem. Anyway...these Batman socks for women are pretty freakin' unique. Yeah, I know.....You're welcome.

One size fits most!

Even though these socks are super heroically imbued and dripping with style, they probably shouldn't be exposed to vigorous activities like basketball, parkour, crime fighting, super villainy, mountain climbing, etc. etc.

In addition, it is best to turn these socks inside out before washing/ drying them! Apparently high temperatures and spin cycles don't exactly agree with the cape.
More Details
Product Category:
Clothing & Apparel,
Socks
Reviews of Batman Caped Women's Grey Knee-Highs Socks
5.0
(Based on 11 reviews)
Gaia
R
The best gift ever for sock-lovers!!!
Submitted 7 years ago
Becca
Houston, Texas
Super cool, but really thin so they tear easily. Not socks to walk around inside without shoes.
Submitted 6 years ago
The Batman socks were awesome
Submitted 7 years ago
Smasher
Scotland UK
I bought this for my sister because she is a major Batman fan. They arrived very quickly which surprised me I must say because I live in the middle of nowhere. The socks are excellent quality, and the capes are fantastic fun to have and a great price too, even with shipping included. Holy Socks on my feet Batman, these capes will make us go faster. Thanks guys :)
Submitted 7 years ago
Anast_Z
France
I offered these socks to a great friend and she loved them immediately !! They are perferct.
Submitted 7 years ago
socks
Melbourne, AUS
These are the coolest (maybe the wrong word) thing ever! They are so unique and certainly stand out in a crowd
Submitted 6 years ago
Super cute I wore them when I saw the dark night and everyone loved them!!!
Submitted 7 years ago
A little small, but good quality.
Submitted 7 years ago
Mike
Rochester, NY
Got it for her birthday and they fit well and she loved the capes.
Submitted 7 years ago
Fruittlipz
Eastvale, CA
I wore them to Disneyland with shorts and my batman tee (also bought from Super Hero Stuff) for Disney's trick-or-treat.; to "match" my husband. I was stopped and asked where I purchased my socks because they were so cute.
Submitted 5 years ago
J
Port Orchard Wa.
I think these socks are awesome! So I bought them for my wife to go with the superman one I got her.... she won't wear either pair.... still waiting for a good bet I know I can win to make her wear them :)
Submitted 7 years ago