Batman Stormy Knight Sublimated T-Shirt
$39.99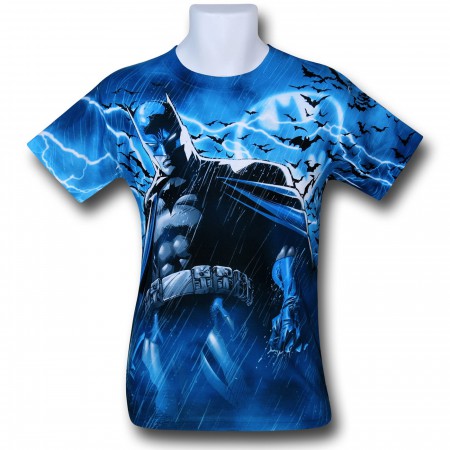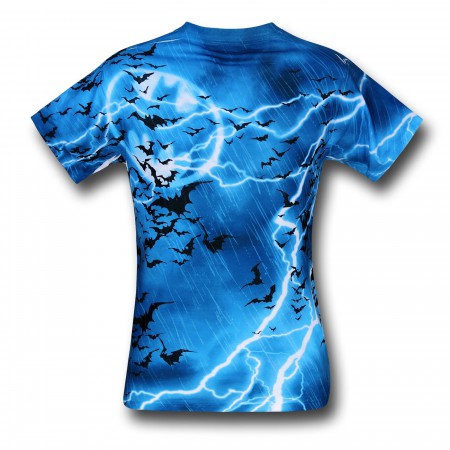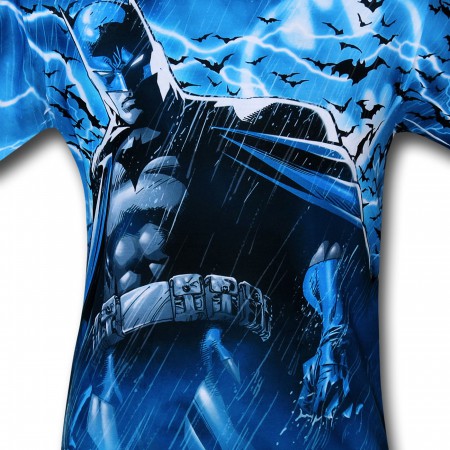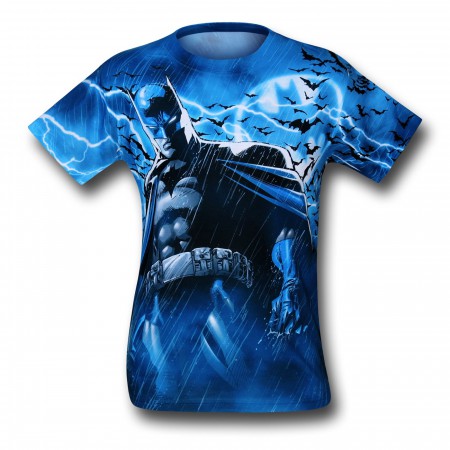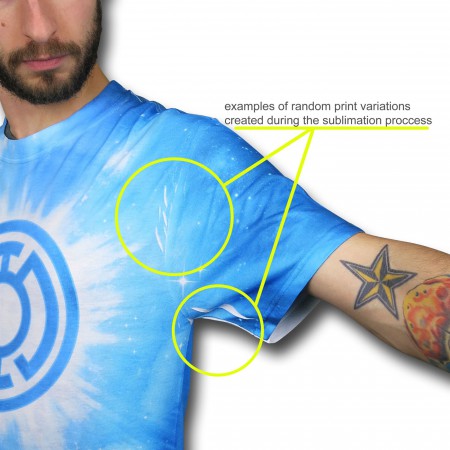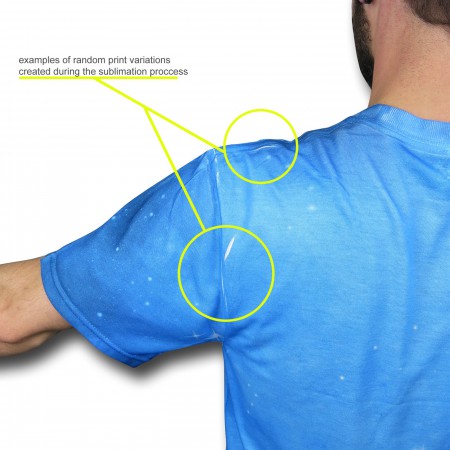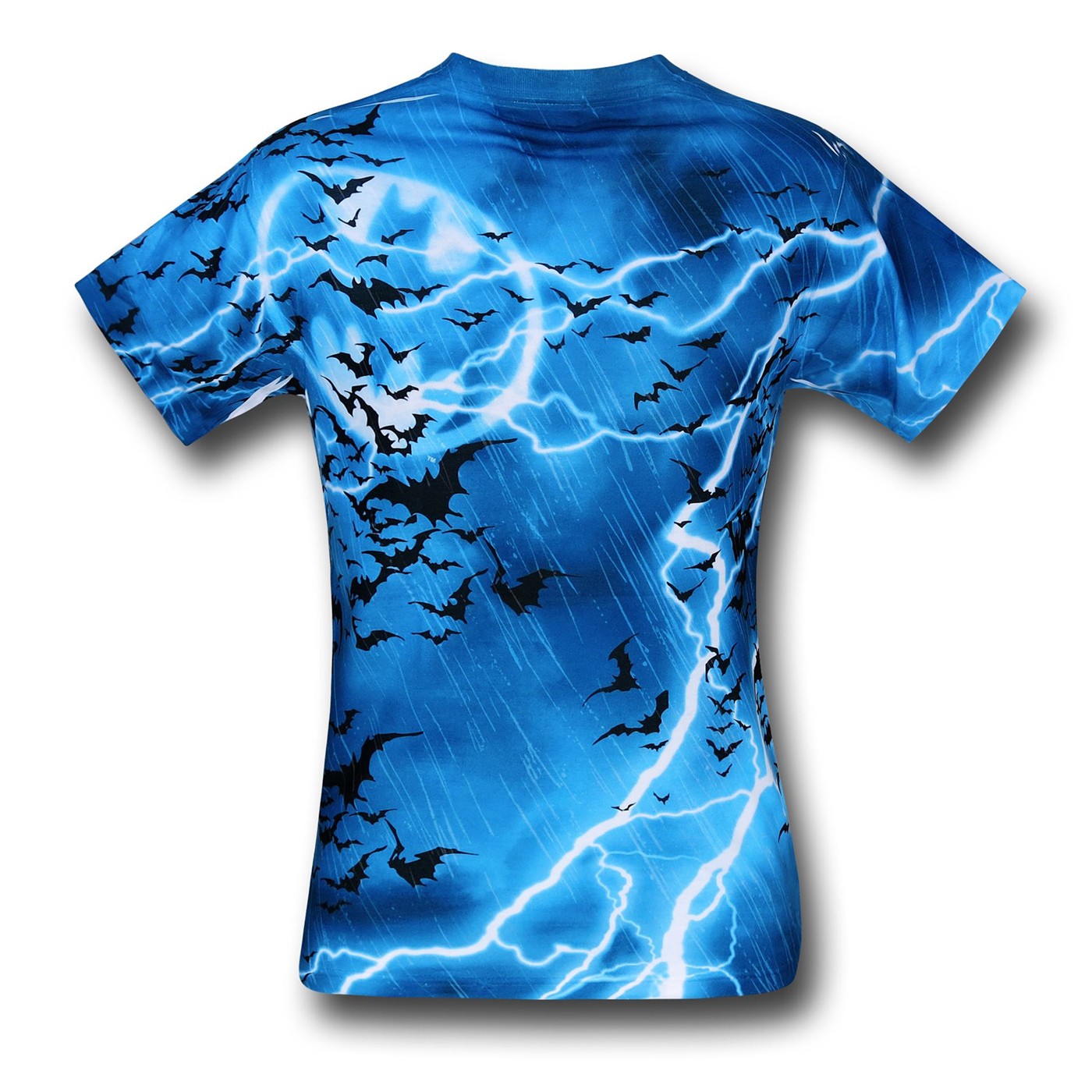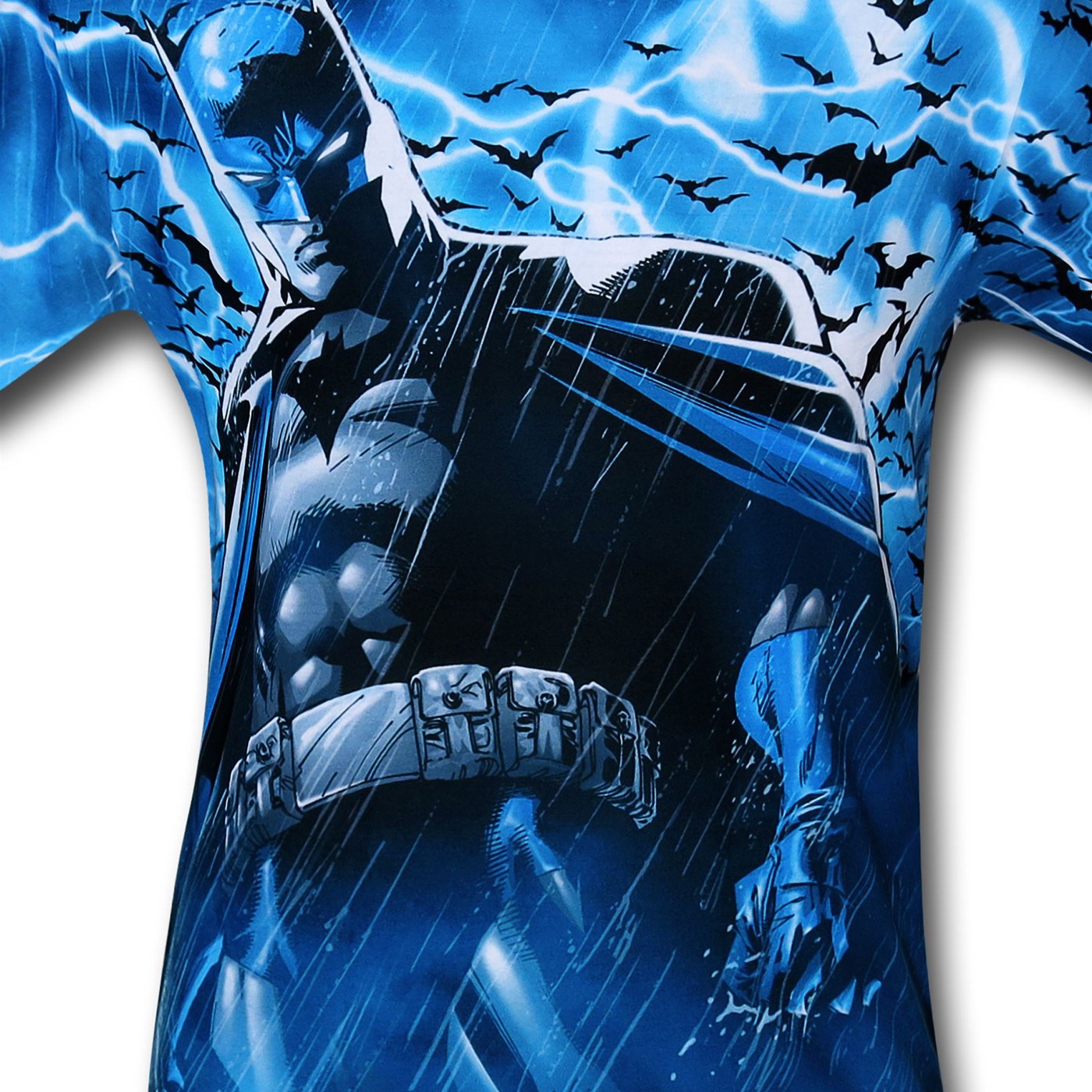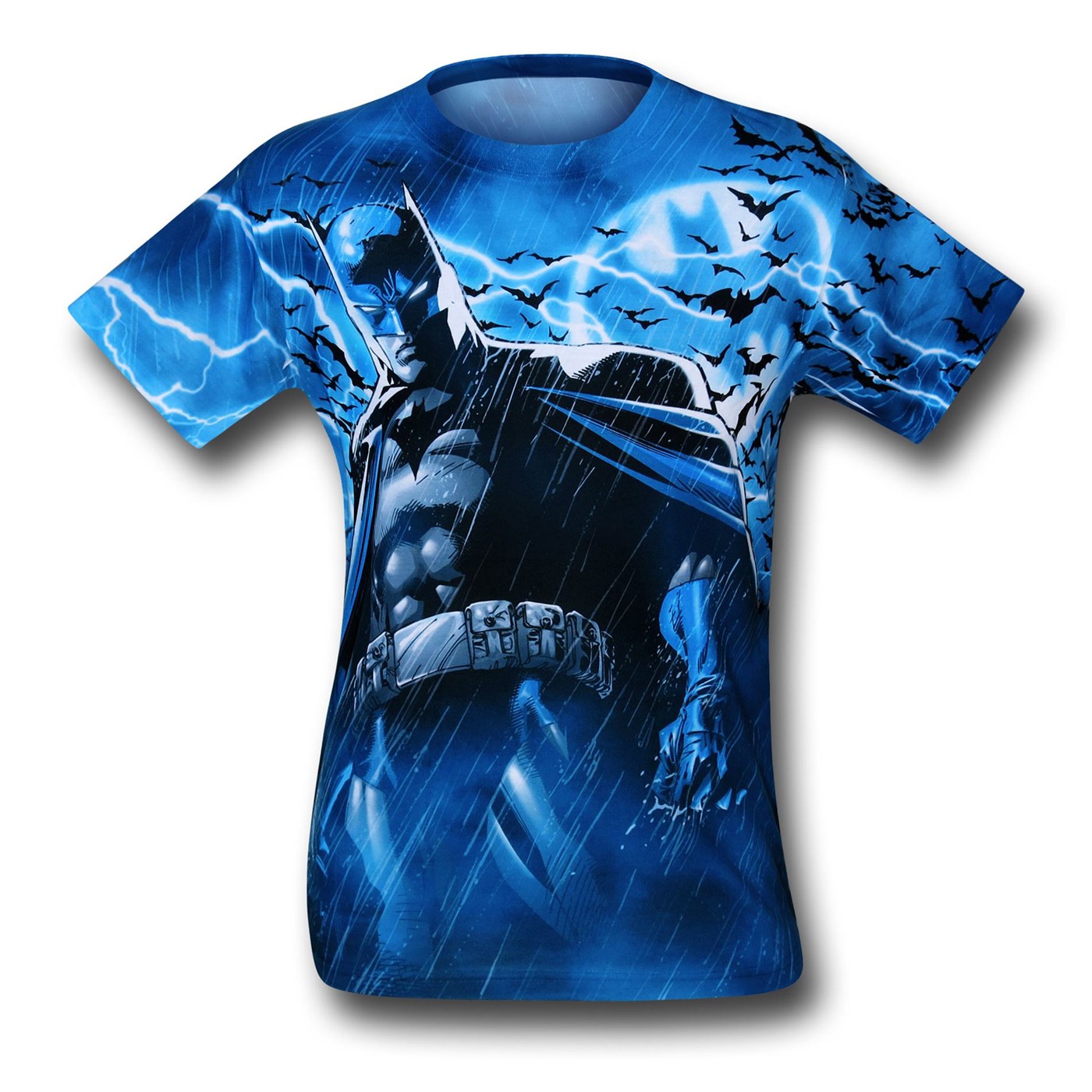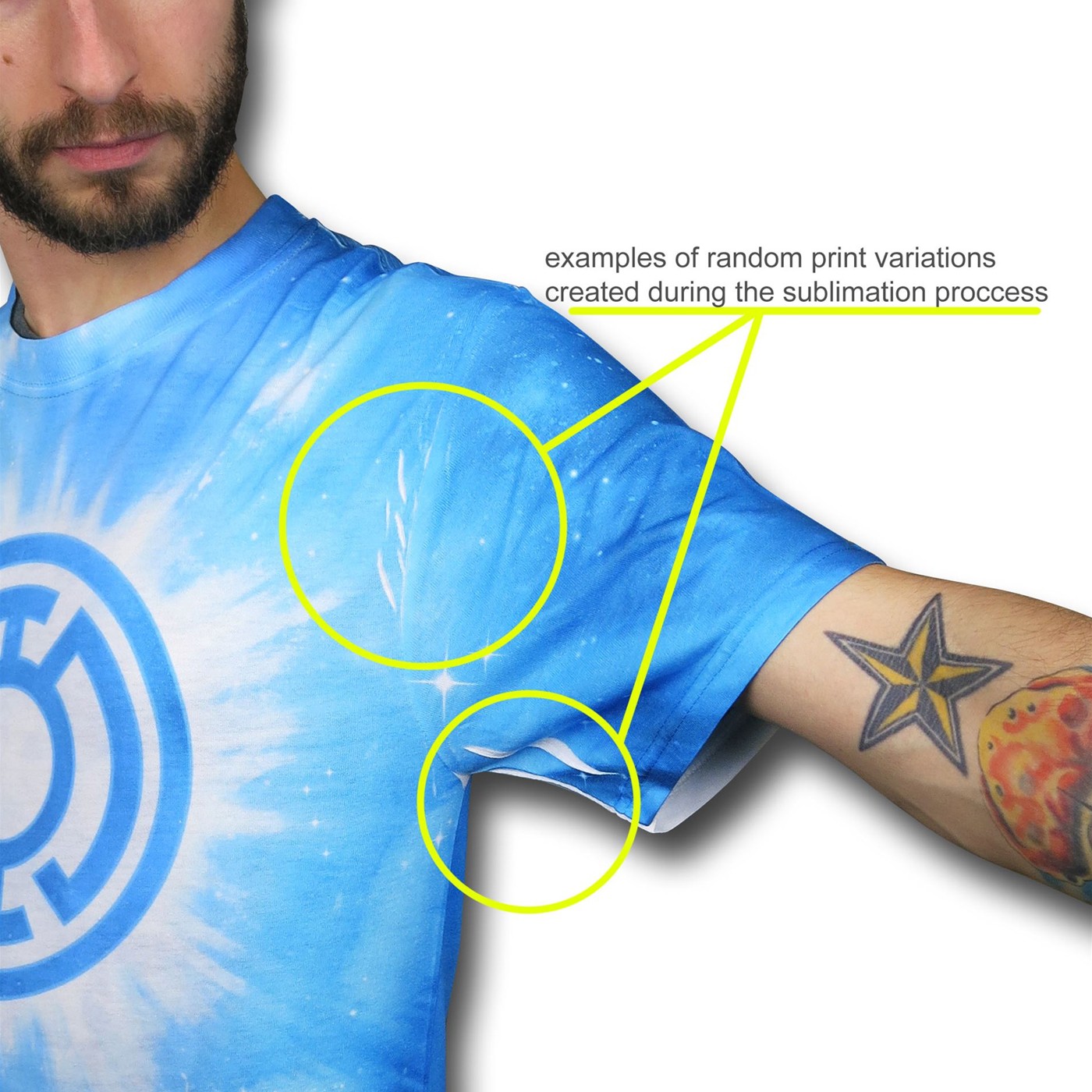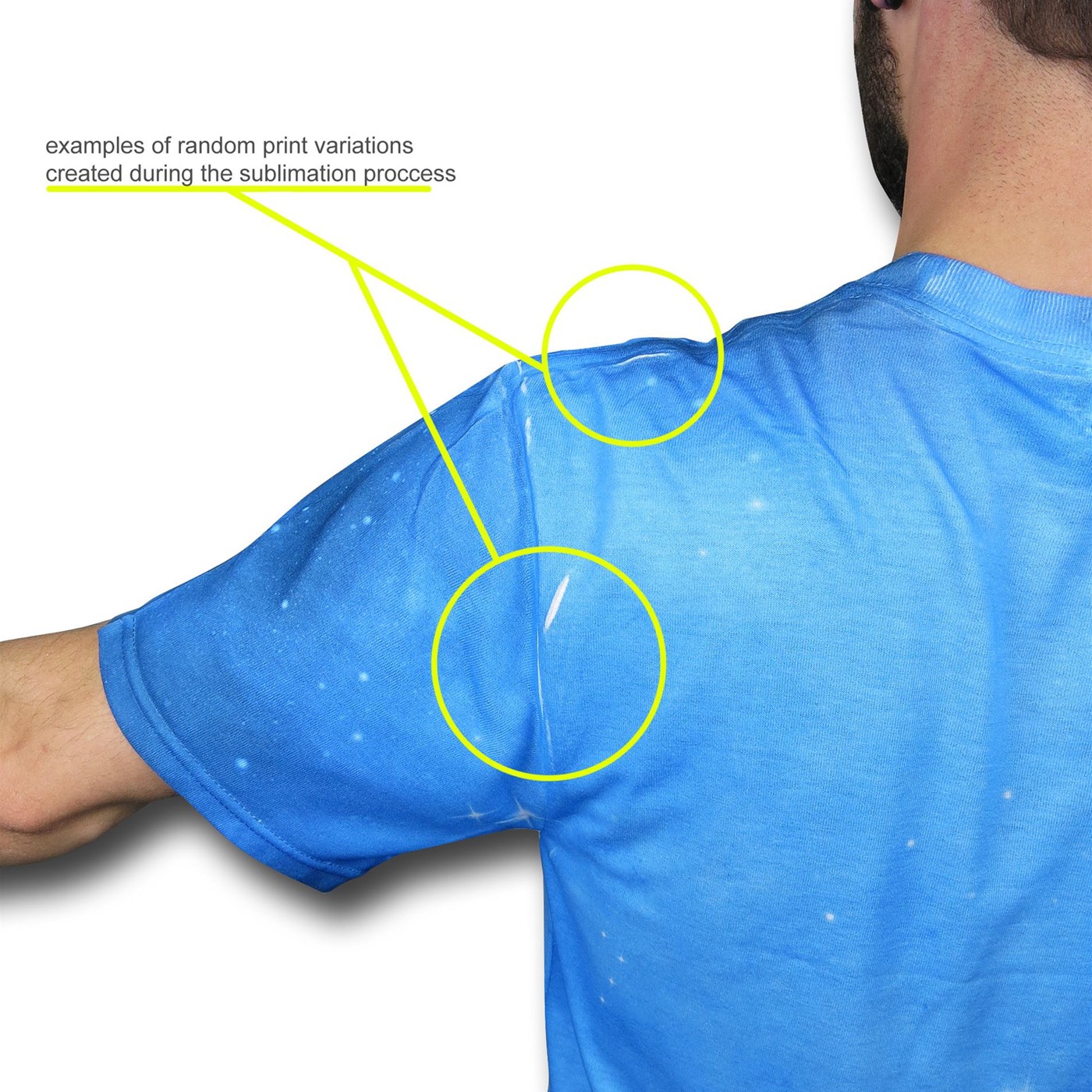 Batman Stormy Knight Sublimated T-Shirt
$39.99
Shipping Guarantee
In stock items ship within 1 business day
Batman's singing in the rain, yes, singing in the rain. What a glorious feeling the Batman's having to-day! No? Doesn't quite work out? Can't blame me for trying, right? Crafted from a very chic 100% polyester, the Batman Stormy Knight Sublimated T-Shirt has a print that goes completely around this shirt and right up to the edge! Pretty spiffy if you ask me. Say, why don't you keep the Dark Knight company and pick up the Batman Stormy Knight Sublimated T-Shirt? He looks a bit lonely.
These are not your typical shirts; sublimation is a viable and durable solution to the industry standard of ink jet heat transfers. The sublimation process takes a large sheet of ink soaked paper heated to ridiculous temperatures which causes the ink to literally bind to the fabric. This causes the shirt's image to become amazingly resilient to the ravages of time! 

This technique can result in small imperfections, generally around the armpit, seams, and stretched spots on the shirt. It is something that is intrinsic with this process but it makes each shirt wholly unique.
More Details
Product Category:
Clothing & Apparel,
T-Shirts
Reviews of Batman Stormy Knight Sublimated T-Shirt
Ed
Atlanta, GA
Very nice shirt. The printing style is extremely well done. It's comfortable, though a little thinner than I would like, for a t-shirt.
Submitted 5 years ago
Ed
Harvard, MA
bat-rocks design all around!
Submitted 6 years ago
Batman fan
Brisbane, Australia
Material is very soft and very light weight, great for Australian summers, unfortunately sizing is smaller than usual so need to send back and get the next size up.
Submitted 5 years ago
Mark
Palos Hills,IL
I walked to college, everyone students looked at me without ever one missed it. :)
Submitted 6 years ago
Ruby Merchant
VA,Spain
lI just received it yesterday and I clearly show everybody off while wearing it,everybody stop and stare at me up and down when passing nearby or coming from afar even,I think it´s normal,it seems everybody would love a piece of me but……mind the merchandise,does not it?Jealousy,jealousy to the core!!!Nobody would deserve the credit to get their hands on this piece of work except the MOI.(chuckle)It comes from the best WEBSITE EVER of which I feel so proud of. The design is SPECTACULAR and Batman is capable to scare the hell out of everybody easily with that electrifying pose of his and the gloomy environment that involves his being at the time.The Bat signal on requiring Batman´s assistance is also another factor nobody should take for granted due to evil must be lurking in the shadows and stalking Batman without his knowledge but Bruce is always ready for the fray and to kick some ass as usual but whose that a.. are we talking about?I hope the walking dead are not present ;Batman looks unstoppable and that frown of his…….,evil itself should be resenting Batman´s being and who would not?huh? "GO BACK WHERE YOU BELONG TO OR I´LL MAKE YOU REGRET IT" Batman says and the whole world and the beyond itself bowed before him denying the remote possibility to take him on. "ALL OF YOU DID THE RIGHT THING TO BACK OFF AND NEVER FORGET TO ACQUIRE THIS PIECE OF ART INTO YOUT OWN COLLECTION OR YOU´LL REALLY GO THROUGH A HARD TIME NEXT TIME" Batman was nothing dubious of everybody´s reaction and he could breath easy and call it a night after the prowl.
Submitted 6 years ago
Chris
Dale City, VA
This shirt was perfect. I got this for my daughter, who is a batman lover. She wears it all the time!
Submitted 6 years ago
WW+SM
Huntington Beach, CA
looked awesome...was so excited but it was too tight. It didn't stretch like other t shirts! the fabric doesn't have "breathing room" :(
Submitted 6 years ago
R
Ireland
I bought four sublimated t-shirts, one of which was this. Beautiful image, very clear, very dynamic, very impressive. Also I must say I found Superherostuff to have THE VERY VERY BEST customer service!!! They clearly also have Superhero staff!!! Cannot thank them enough, exceptional customer service. Will buy more t-shirts here definitely!
Submitted 3 years ago
Matthew
Philadelphia
Very comfortable and the colors makes this shirt stand out.
Submitted 3 years ago