Exclusive
Wakanda Is NOT a Shithole Country Men's T-Shirt Pre-Order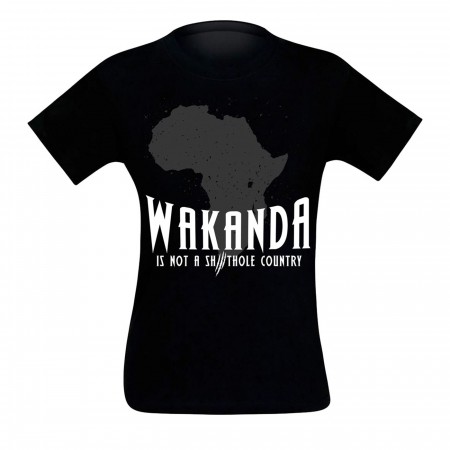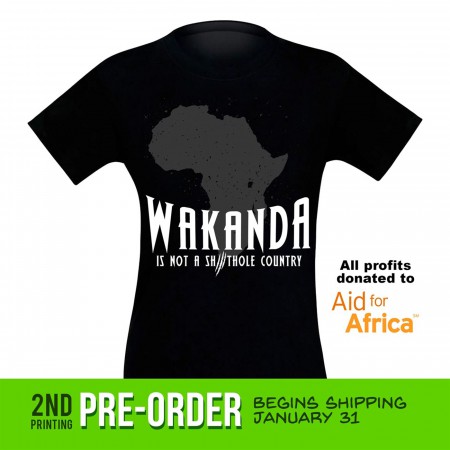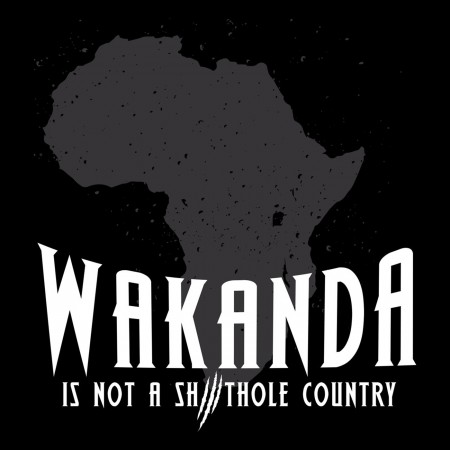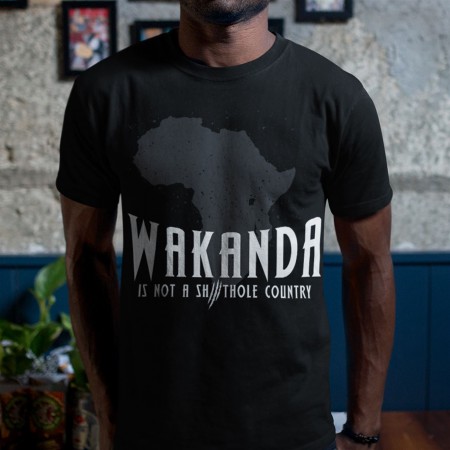 Exclusive
Wakanda Is NOT a Shithole Country Men's T-Shirt Pre-Order
We are not planning on bringing this item back currently, but we'll let you know if that changes!
We'll let you know as soon as the item is back in stock!
2nd Printing PRE-ORDER: Begins Shipping January 31st
Thanks to you our first batch sold out faster than we expected. We're placing an order for a second batch. The first batch will still ship on 1/23.

All profits from this t-shirt will be donated to AID FOR AFRICA, a charity alliance of U.S.-based nonprofits and their African partners working to help children, families, and communities throughout Sub-Saharan Africa. To learn more about Aid for Africa visit their website: aidforafrica.org
Is Wakanada a "shithole country?" Absolutely not.
After a closed-door Oval Office meeting on immigration late last week, certain disparaging remarks were reported regarding several third world nations -- these nations were carelessly identified as "shithole countries."

The remark has set off a political firestorm all across the world. Many politicians and journalists have stepped forward calling the words 'tasteless' and 'extremely un-presidential'.
King T'Challa of Wakanda, the mysterious African nation, has yet to respond directly but was seen speaking to US intelligence agent Everett K. Ross on Monday. Could this be a secret effort between Ross and the United States government to maintain diplomacy?
It has long been rumored that Wakanda is stockpiling Vibranium, a very rare and expensive metal that is nearly indestructible. It has been used with great effect in both industrial drilling and military applications. The US military has long sought to gain access to the country's reserves but will doubtfully happen any time soon with another blow to US-Wakanda relations.
It was recently speculated that Wakanda could be harboring wanted fugitives Bucky Barnes, aka the Winter Soldier, and Steve Rogers, aka Captain America, since last year. In the days after the superhuman "Civil War", precipitated by the Sokovia Accords at the Leipzig/Halle Airport in Germany, multiple Wakandian sources reported seeing a mustachioed Steve Rogers within the king's compound. 
The US government has repeatedly called for the men's extradition but has received no public response from the secluded African nation. 
Without a forthcoming apology from US representatives, it seems unlikely that the US will make any headway with T'Challa in the near future.
In response to these insensitive remarks, many citizens of Wakanda have been seen wearing a t-shirt with the following prideful proclamation: "Wakanda is not a shithole country."



More Details
Product Brands:
Black Panther
Product Category:
Clothing & Apparel,
T-Shirts
Reviews of Wakanda Is NOT a Shithole Country Men's T-Shirt Pre-Order
4.5 (Based on 16 reviews)
T'Challa's Cousin
Dallas, Tx
5.0
Great quality and sends aid to Africa what's not to love!
Submitted 5 years ago
Try
The FORT. AR
2.0
Not even a marvel product. Not very black
Submitted 5 years ago
Brett
Cheektowaga, NY
5.0
It is what I thought and it is a great statement
Submitted 5 years ago
JerriKoe / Jousef
Berlin, Germany
5.0
I love the idea of having all profits donated to Aid for Africa. Got many looks at it today (BP day)
Submitted 5 years ago
Aubrey, SuperHeroStuff.com fan
Richmond, VA
5.0
Saw this, and had to have it! Like the design, and very comfortable!
Submitted 5 years ago
Icesniper
Portland, OR
4.0
Wish the text was higher up. Funny shirt though.
Submitted 5 years ago
Maria
Ohio
Submitted 5 years ago
Sunkissed
Talladega, AL
5.0
It's awesome and fit perfect
Submitted 5 years ago
Jose
Chicago, IL
Submitted 5 years ago
Eric
Brooklyn NY
5.0
Thank you for your awareness and patronage to those in Africa's culture and human culture
Submitted 5 years ago
Mr. Doctor
Whittier, CA
5.0
An awesome shirt to add to your collection. For ANY race! Excellent quality and for a good cause.
Submitted 5 years ago
Sam
Windsor' ON
5.0
Awesome design as good as all the shirts on this great site.
Submitted 5 years ago
Gabriel
Flint, MI
1.0
Honestly what a shitty thing to do. Cash grab much super hero stuff? It isn't a joke.
Submitted 5 years ago
Frank
Jersey City, NJ
5.0
Thanks for taking a stand, I bought 2!!
Submitted 5 years ago
Al
Greenville, SC
5.0
I'm getting a bunch of these.
Submitted 5 years ago
John
Lyndhurst, NJ
5.0
Great idea and they made it better by donating the profits to a worthy charity. Can't wait for it.
Submitted 5 years ago