Wonder Woman Halter Top Bikini Set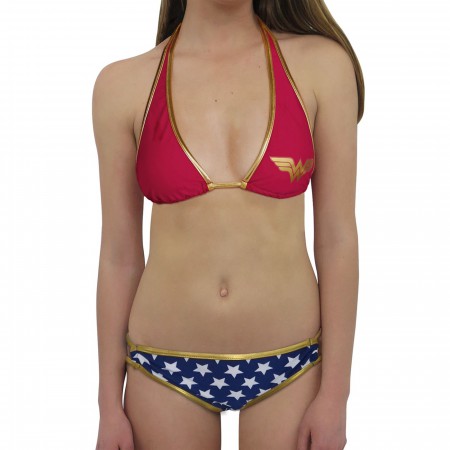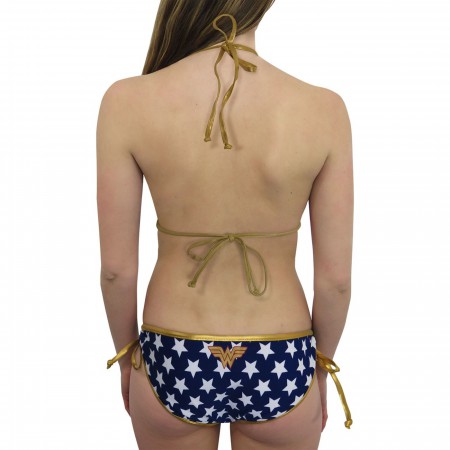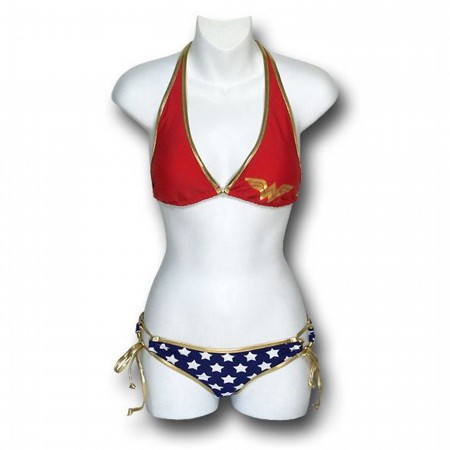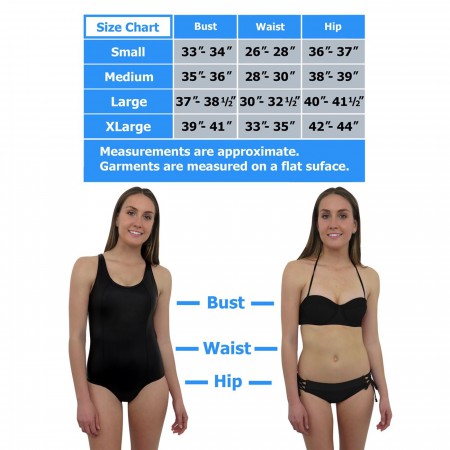 Wonder Woman Halter Top Bikini Set
We are not planning on bringing this item back currently, but we'll let you know if that changes!
We'll let you know as soon as the item is back in stock!
Make every island Paradise Island.

You're a glistening goddess granted the immaculately tanned skin of Aphrodite. 

To properly show off those bronze, gleaming shoulders, you commanded Hephaestus to create the equally glistening Wonder Woman Halter Top Bikini Set.

With an 80% nylon and 20% spandex body and a lining made from 100% polyester, this 2-piece Wonder Woman bikini features a red top and blue, star-spangled bottom -- they're both adorned with a golden Wonder Woman symbol!
This Wonder Woman halter top bikini set also features gold-foil trim and highlights, as well as elastic, gold-foil string-ties for a comfortable fit!

So...if you're female, a fan of Wonder Woman and/or possibly the beach.....Well, then....we may have something for you. Maybe.


More Details
Product Brands:
Wonder Woman
Product Category:
Clothing & Apparel,
Swimwear
Note: This item is promotionally priced, additional discount codes cannot be applied.
Reviews of Wonder Woman Halter Top Bikini Set
4.5 (Based on 26 reviews)
amandaface
Toronto, Canada
5.0
This is now my go to bikini its comfortable fits nicely and its very flattering also its frackin wonder woman so its frackin awesome! Now where did i park my invisible plane?
Submitted 11 years ago
Kris
Vancouver, BC
1.0
I was very excited to receive this bathing suit but it was short lived when I realized the bottoms were WAY too small and the top didn't fit as comfortably as I'd hoped. Their measurement system is flawed and I would suggest going up a size, or even two, which is horrible for the women who would normally be a larger size because now they can't have one. I hope soon they edit this and make it so everyone can get a bathing suit that they are happy with and that fits. Too bad I can't have my dream bathing suit.
Submitted 11 years ago
5.0
I bought it to impress boyfriend. he loved it, but the top was kinda loose and when we were surfing a wave ripped the top right off. my boyfriend was thrilled, and I got lots of stares the rest of the day. P.S. couldn't find top.
Submitted 10 years ago
Michael
Coppell, TX
5.0
This bikini is amazing! My wife looked like an Amazon Goddess! Highly recommended!
Submitted 10 years ago
Sam I am
Mo
2.0
My husband and I reviewed the size chart three times before we ordered due to the "no return" policy for bathing suites. We measured me three times to make sure that I was under the size we ordered by more than 3" but it was still to small! The quality is great but I am unable to wear it so I am having to give it to a friend as a gift. This makes us very upset since we have been looking for this for quite a while and we both were very excited to order it then disappointed to have it not fit.
Submitted 11 years ago
Sad Tall Girl
WA
1.0
I waited for a long time to get this swimsuit on sale, and when I finally purchased it the bottoms were way too small :( I'm 6' tall with a 28' waist and a 36C bust. I got a large and the top was way too big while the bottoms were HORRIFYINGLY too small. Makes me very sad because I waited so long to finally get it and now I can't ever wear it :(
Submitted 10 years ago
Tom
West TX
4.0
This is not creepy at all, but I bought this for my sister. She had been looking for a bikini that was a little bit different from the usual. The colors are vibrant and the material is good quality. It fits her great and she loves it. People compliment her on it all the time.
Submitted 10 years ago
Damary
Miami, FL
5.0
I was a little concerned because I'm big on the top and smaller on the bottom, so I bought a large on the suggestion of the customer service lady. It fit perfectly. She said the bottoms run a little smaller. Super cute! Love it!
Submitted 11 years ago
Sophia
I wore this in Hawaii while on Vacation. But I am deployed in Afghanistan
4.0
I love this Bikini!!!! Very sexy & nerdy at the same time :) I wore it durring my R&R in Hawaii, on the 4th of July. The only issue I had was the size. I am very small on top (32B), but I am curvy (38in hips) So I had to order a Medium & a Large. I wore it with the medium top & the large bottom. But it was worth it. It would be nice, if in the future these are sold separately. I also, go the Batman one, and same issue..... So I paid 42.99, four times, so I can get the correct fitting swim suits.
Submitted 11 years ago
Betty
Boston, MA
5.0
An awesome bikini! I am 14 and its not too slutty for me! Its Super cute!!!!
Submitted 11 years ago
Aussie girl
Sydney Australia
5.0
This bikini looks fantastic and fits well. I bought a size medium (my measurements are bust 80cms (31.5") and hips 96cms (37.8")) and it fits perfectly. The lycra material is not cheap or flimsy and the gold straps on the top and bottom are a little stretchy so there is some give in it as well. I ordered it online and received it in Australia 12 days later on the slowest mail option. No complaints whatsoever. Love love love it.
Submitted 11 years ago
Haley
Houston
4.0
The top is great! Unfortunately the bottom are a little small for me to feel comfortable wearing in public. In my own backyard though, it's great! They just cut up onto the butt cheek a little too far and the low rise in the front is really really low. But overall I love it! And I have received many compliments from it!!
Submitted 11 years ago
Susan
Washington, DC
5.0
I absolutely love this bikini!! I wore it to a pool party the other day, and I received tons of compliments. Everyone wanted to know where I had gotten it, and I immediately sent them to this website. The top is a sliding triangle/halter which is good for me because I have widely-spaced breasts. I am a 6/8 dress size, I have a 36C bust, and the medium fit perfectly.
Submitted 11 years ago

Texas
2.0
Bathing suit bottom is way to skimpy and small. Top fits fine. Bought the correct size according to the sizing chart. This will never be worn now. $42 down the drain. Learned my lesson to NEVER order a bathing suit online. :(
Submitted 11 years ago
Kelly Wonder Woman Langridge
Brighton UK
5.0
DC official, and absolutely gorgeous. It is made very well, great quality, and looks just as it does in the pics. Do not buy cheaper, it will not look as good. My friends thought it was brilliant, and took loads of pictures. All sides are adjustable, so not a problem if they dont have your size. One small issue of the Customs seizing it once it entered the UK, and an additional charge to obtain the goods, (not the first time from superherostuff.com) but it did exactly what I wanted it to.
Submitted 10 years ago
French Fry :D
Paris, France
5.0
I bought it as a gift for my GF before our vacations... She loved it! And I loved her in it :D Thanks again!
Submitted 11 years ago
Rainbow
Cozumel
5.0
Sizes run small. I usually get a small bottom and I got a large to make sure parts were covered.
Submitted 10 years ago

California
5.0
Fits well, is made of high quality material, and is flattering! It is a teeny bikini, maybe moreso than you'd think from the picture, so be aware!
Submitted 10 years ago
HarleyHuntress
France
5.0
Everything is perfect !
Submitted 11 years ago
4.0
The size ran a little smaller than I would have liked but I can't wait for swimsuit season now!
Submitted 10 years ago
amandacobain
Toronto, Ontario
5.0
this is quite possibly the best bikini ive ever purchased not only is it comfortable very flattering and not skanky its frackin wonder woman!!!
Submitted 11 years ago
Chelsea, Wonder Woman wannabe
Houston, TX
3.0
Sexy and good quality but runs a little small. The top is not for big chested ladies unfortunately.
Submitted 10 years ago
wonder women for a cure
Detroit, Mi
5.0
This bikini is so Sexy!!!!!! It actually made my friends and family say WOW, now that's how a super hero should rock a swim suit!!!!! Not going to lie I did a little extra cardio the day I wore it just to represent for all the Wonder Women of the world. It has excellent coverage and support.
Submitted 11 years ago
Wendi Woman
Kahala, HI
5.0
Showing my super bikini powers to the boys at the beach
Submitted 5 years ago