Exclusive
Batman Grey Union Suit Pajamas w/Cape and Cowl
$41.99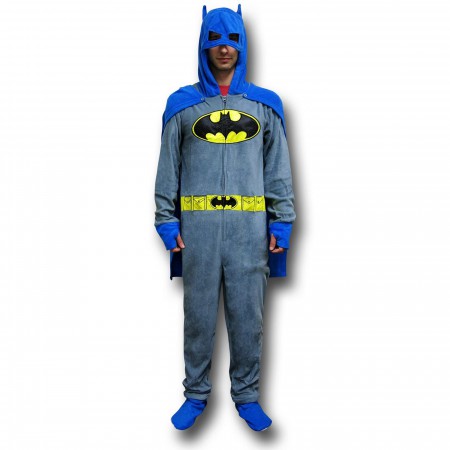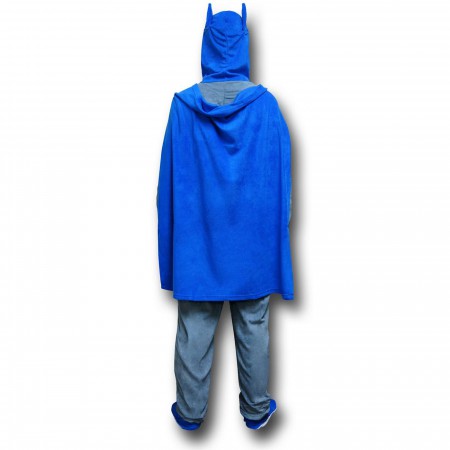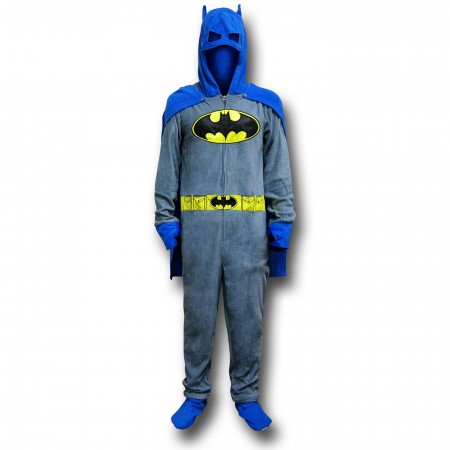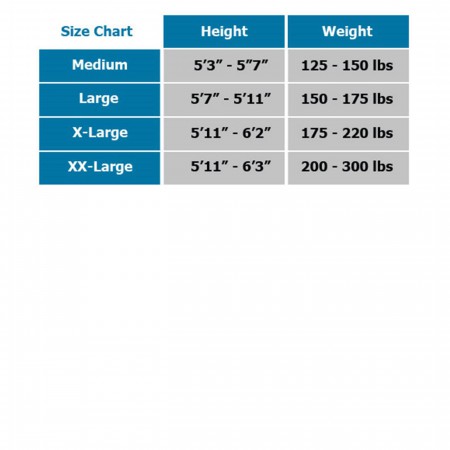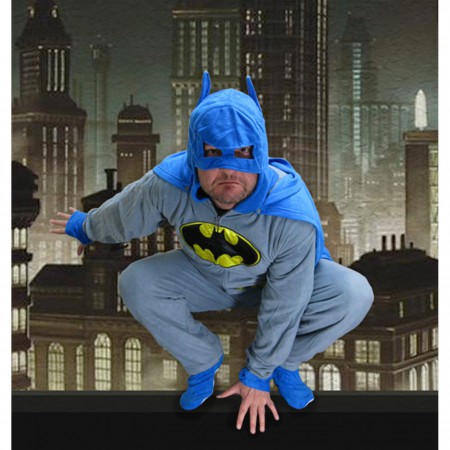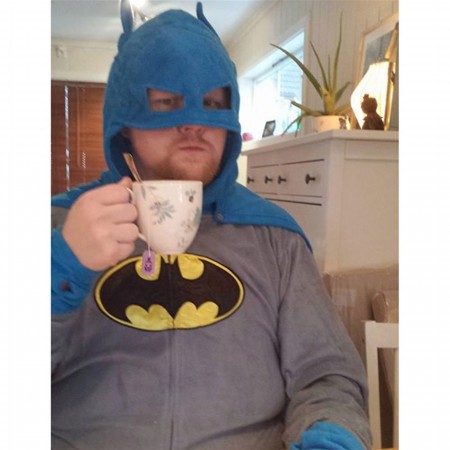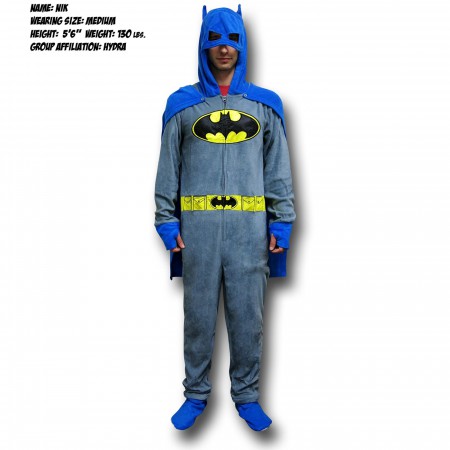 Exclusive
Batman Grey Union Suit Pajamas w/Cape and Cowl
$41.99
We'll let you know as soon as the item is back in stock!
Shipping Guarantee
In stock items ship within 1 business day
Batman craves two things; Justice and a good night's rest! However, DC Comics' Caped Crusader rarely gets that second thing so maybe you can fill in for him with the 100% polyester Batman Grey Union Suit Pajamas w/Cape and Cowl! It is actually way better pinch-sleeping for Batman than going out and fighting justice in the Batman Grey Union Suit Pajamas w/Cape and Cowl even though it is super nice! Fighting crime involves lots of hazards like gun / knife wounds, crazy people, and lots of paper work while sleeping hazards involve nightmares, spooning, and blanket hogs.
I think you are safer off going the sleeping route...and getting the Batman Grey Union Suit Pajamas w/Cape and Cowl! Based on the grey/blue version of the Dark Knight costume, the Batman Grey Union Suit Pajamas w/Cape and Cowl has thumb hole cuffs, a removable cape(via buttons) and footers(via zippers) while the hood appears as the Batman's famous cowl! You won't have to worry about nightmares with the Batman Grey Union Suit Pajamas w/Cape and Cowl...you'll probably have batarangs with you!
More Details
Product Brands:
Batman,
Exclusive
Product Category:
Clothing & Apparel,
Pajamas
Reviews of Batman Grey Union Suit Pajamas w/Cape and Cowl
5.0
(Based on 22 reviews)
Robby Miller
Calgary, AB
Just received my Batman onesie today and I have to say, the comfiest thing I've ever worn in my life. It arrived earlier than expected which is great! Because my brother, cousin and I all have the plan to wear onesies on christmas morning to open presents. Originally I was debating between this, Wolverine (because he's my favourite) and Iron Man. But for me the Wolverine one looked very meh, so I'm very happy I settled on Batman! Plus I could tell from the pictures that this one was made out of what looked like what would be a comfier material, I wasn't wrong! So happy with this onesie and can't wait until christmas morning to rock it with gift opening!
Submitted 5 years ago
Nathaniel
Seattle, WA
Submitted 5 years ago
Brian
Douglassville, PA
Love this thing, it's super comfortable, classic design and makes my wife laugh. Three wins for me!
Submitted 6 years ago
Sam
Salem, NH
My dad wanted pajamas for Christmas. Since he's a big Batman fan, I got this for him. Other places didn't have his size in just pajama pants, but this union suit fit him perfectly and he loved it.
Submitted 5 years ago
Bruce Wayne
Albuquerque, NM
I'm 6'1 and the XL size fits great. Not super thick, but it's cozy and has a button-on cape. I'll probably wear it all winter.
Submitted 6 years ago
A (hopefully) fun mom
St. Paul, MN
We got this for my college son for Christmas because the one we got from Target was too small. Our younger son's Capt America from Target fit - too bad for him! He'll be getting something from SuperHero next year. My college age son has worn it lots in his apartment with friends, and they are all envious!
Submitted 5 years ago
kim
connecticut
i love them. i am supercool with them on. i wear them almost everynight. wearing the cape is like a small blanket on your back. so cozy so warm i want more
Submitted 6 years ago
Sabrina
Richmond, VA
The Batman Pajama "Onesie" made a great Valentine's Day gift for my boyfriend! Although to be honest, since we both love Batman it was a present to both of us! It's snug and warm and fits him perfectly. He's was a size medium I believe and is about 5'7 so that fit him really well. This site is where I'll be purchasing his gifts in the future!
Submitted 6 years ago
Christian Bale's Voice
Gotham
I was excited from the time I bought it to the time it arrived in my mailbox. As soon as I tried it on, I absolutely fell in love with it! It's soft, warm, and thanks to the (detachable) attached "booties", and cowl, I'm warm from head to toe...literally!
Submitted 6 years ago
Morgan, Owner of Far Too Many Batman Products
California
I initially ordered the Robin Suit Pajamas but they didn't have my size. They called me that day and asked if I wanted to get the next size up. Seeing as I am a teenaged girl, that wouldn't have worked and they helped me change my order to this one. I'm super happy with it. The cape and feet are detachable and the pockets are super deep. I'm really happy with it!
Submitted 6 years ago
The Goddamn Batman
Gotham
Its super cozy, it makes an awesome Halloween costume, the price is perfect, and they are pajamas. Buy ten.
Submitted 6 years ago
Wine
Pittsburgh, PA
I just ninja around the living room. And I'm warm
Submitted 6 years ago
Lexi
Melbourne, Australia
These Batman Pajamas are awesome definitely recommend them to anyone good quality and are wearing well. And most import they look rad and feel fantastic.
Submitted 6 years ago
Trent, comic fanboy
Manitoba, Canada
Winters in a Manitoba Canada get a might frosty... Or at least they used too. Super cozy, a must-have for that cold-climate Fan boy!
Submitted 6 years ago
Comic Guys Wife
Calgary, Alberta
These are awesome and fit true to size. The material is super warm! They are AWESOME!
Submitted 5 years ago
Coreen Prunty
Howard Beach, New York
I sent this to my son in California he is 51 years old. But a little boy at heart . He is an avid Batman fan. He loves his pajamas and even sent me a picture of himself in them. Thank you he was very happy to get them. Sincerely Coreen Prunty
Submitted 6 years ago
Kira, nerdy nerd nerd
Twin Cities, Minnesota
Its great. My dad got me it for Christmas and I have only taken it off twice since then. I love that the cape is removable. The thumb holes in the sleeves keep me even warmer. The removable feet are great. If that wasn't wonderful enough, it has pockets!!!!! I also like that the images are sewed on not just ironed or printed. The only issue is when I have to go to the bath room I have to take it off. No butt flap. I almost dipped my soft cape in the toilet once. I believe that's a great note to end on. :D
Submitted 6 years ago
Jimmy Balzer
Erie, Pennsylvania
The Cape and feet are removable too!
Submitted 3 years ago
Longtime comics fan
Newark DE
It fits fine and looks great. Everyone said it was perfect!
Submitted 3 years ago
Ben Randall
Swansea UK
This is amazing, a little snigger than I thought, and it was an extra £15 to cover UK customs charges but ... totally worth it. This is THE best thing I have ever bought, I searched for the best batman onesie and was not disappointed. This product will change your life!
Submitted 3 years ago
Dhash, DC FREAK
Singapore, Singapore
Was skeptical of how the material would be like, but when I received it, I was blown away! It's super soft and comfortable! I like how you can remove the feet covers! Best item bought from this website :)
Submitted 4 years ago
Ruth
North Little Rock AR
16 year old wore it 2 days straight. Loves it.
Submitted 2 years ago