Batman Union Suit Pajamas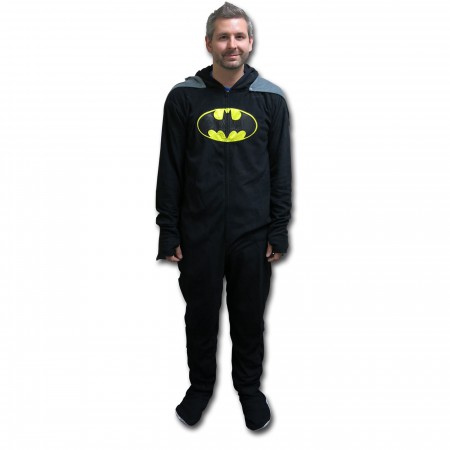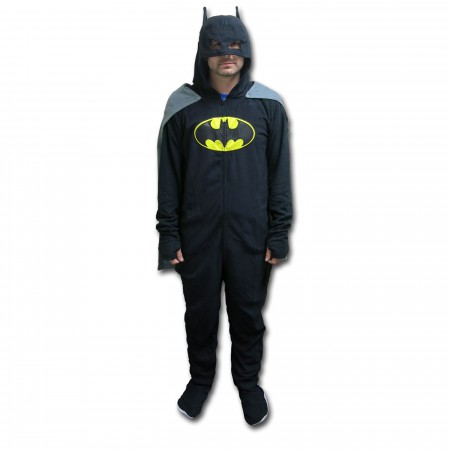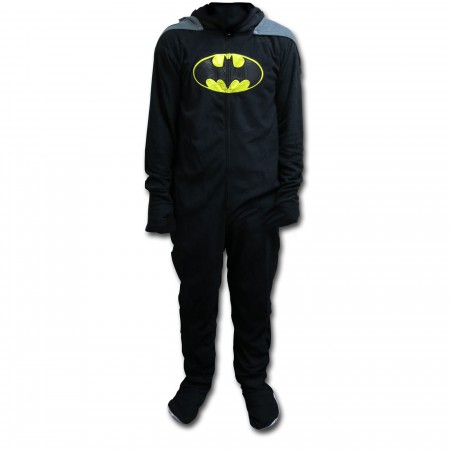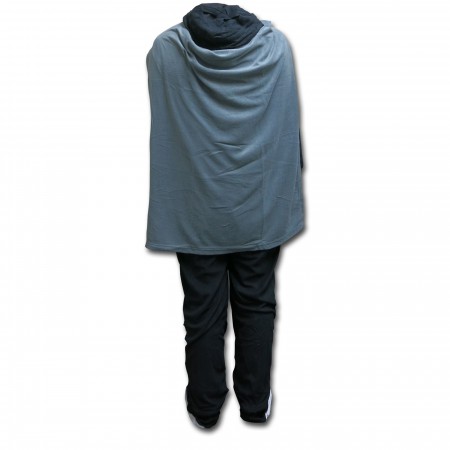 Batman Union Suit Pajamas
We are not planning on bringing this item back currently, but we'll let you know if that changes!
We'll let you know as soon as the item is back in stock!
People are always calling in and suggesting that we get adult sized snapsuits with the 'cutesy wootsy wittle footers'. They actually say that too...just like that. Well, we're suckers for baby talk so we now proudly introduce the 100% polyester Batman Union Suit Pajamas! We know you people love the Batman, so now you can relive a part of your childhood in a sensible adult fashion...with a cape and cowl. Okay, let's forget about the adult part and just run with the 'reliving your childhood' component. These Batman Union Suit Pajamas are soft to the touch and come in the 'union suit' style format that covers the entire body! The cape is detachable by buttons and the 'footers' have traction making this Batman Union Suit Pajamas practical. Well, as practical as a giant adult sized Batman cover-all can be.

Sizing Chart:

Small - 4'11 to 5'3, 100 to 125 lbs
Medium - 5'3 to 5'7, 125 to 150 lbs
Large - 5'7 to 5'11, 150 to 175 lbs
XLarge - 5'11 to 6'2, 175 to 200 lbs
XXLarge - 5'11 to 6'3, 200 to 250 lbs

More Details
Product Category:
Clothing & Apparel,
Pajamas
Reviews of Batman Union Suit Pajamas
5.0 (Based on 14 reviews)
Visitor
France
5.0
So funny, that was a perfect gift for my boyfriend, fan of comic books. And it feels confortable on the skin too !
Submitted 9 years ago
5.0
I ordered a debit card and everything just for this.
Submitted 10 years ago
Simon Girard
Quebec
4.0
I love it, it have pockets, the sock are removable, the only thing i have to say, don't take the large one if you're 5"9, i can wear it but it's really tight. But i love it anyways.
Submitted 9 years ago
4.0
If only it came in 3 or 4XL...
Submitted 10 years ago
5.0
I seems really awesome, just waiting to my size to come in stock.
Submitted 10 years ago
5.0
This product it really cool and fun. Very comfortable. I'm about 5'9" and I ordered a large and it fits comfortably. My only complaint... No green lantern or flash lol.
Submitted 10 years ago
Coreen Prunty
Howard Beach,New York
5.0
I sent this to my son in California he changed this for the other grey Batman and he loved it. Very Happy
Submitted 9 years ago
cindy
ohio
Submitted 9 years ago
Kitty
Vancouver, WA
5.0
I bought this for my husband and it's really super! It's warm, but not too heavy. The hood-cowl with the built in mask is too cool. The feet zip off and the cape comes off (buttons hold it on) so he can be comfortable whenever he needs to channel his inner bat! Great for late nights of Arkham Asylum.
Submitted 10 years ago
5.0
I bought these for both my boyfriend and myself. They are soft fleece, the feet are removable-which my boyfriend loves, they even have pockets! We were also happy to find these pjs had zippers instead of buttons up the front. Overall these are a great idea. We love them. I just hope they get more hero pjs like this, maybe some marvel characters too.
Submitted 10 years ago
Nick
Seattle, Wa
5.0
If your looking for something that is comfortable and badass, this is the onesie for you.
Submitted 9 years ago
R.Quinn
Canada
5.0
I'm 5'3 190 lb woman, and ordered the XL, not really thinking I'd be comfortable in these, They were just so cool I had to have them. BOY WAS I WRONG! Not only do they fit PERFECT (Well, as perfect as onesie PJ's fit) They are Comfy, warm and all around awesome! I've worn them to bed three nights in a row now, and I never get cold. The only cons I find, are the zippers around the ankles, if you roll over just right, they dig into your ankle, and of course, you have to take them off to go to the washroom. Otherwise, I would never take these off. I can't wait for the first PJ day at work, I'll be wearing these and my Batman slippers!!!
Submitted 10 years ago
cindy
Kamloops B.C Canada
5.0
bought the batman union suit for my son's girlfriend as a birthday present. she love's it. She wears it every chance she gets. Because I live in Canada I was a little worried about the shipping times but it came super fast and the shipping price was very good. Next time I need a Super hero item this will be the first place I look. Thanks SuperHeroStuff.
Submitted 9 years ago
5.0
Perfect fit, looks awesome. I love it!
Submitted 10 years ago