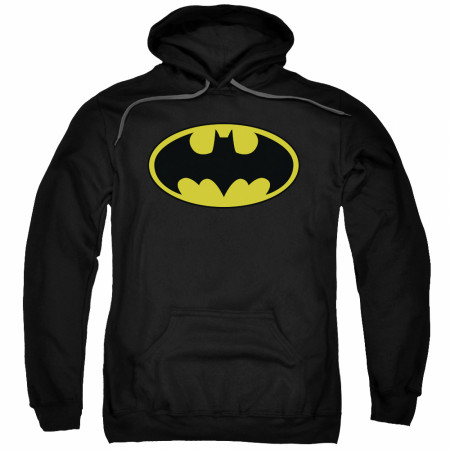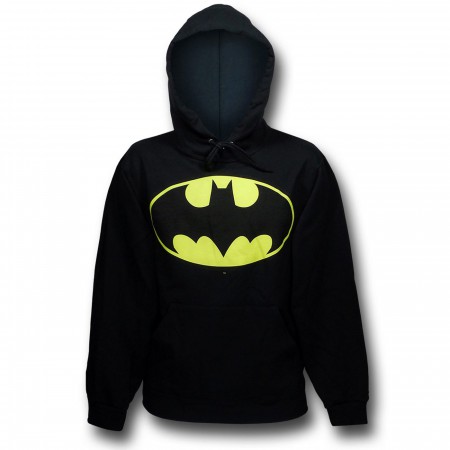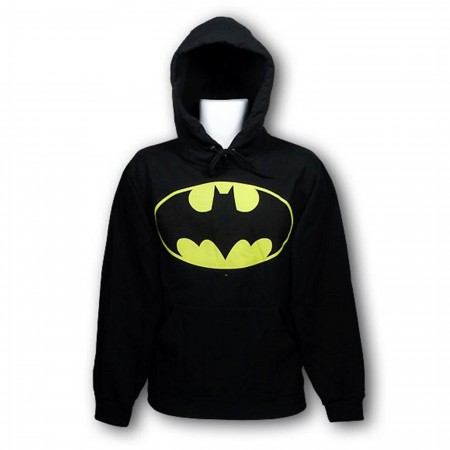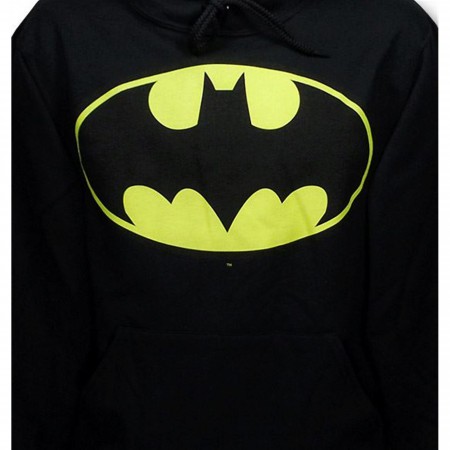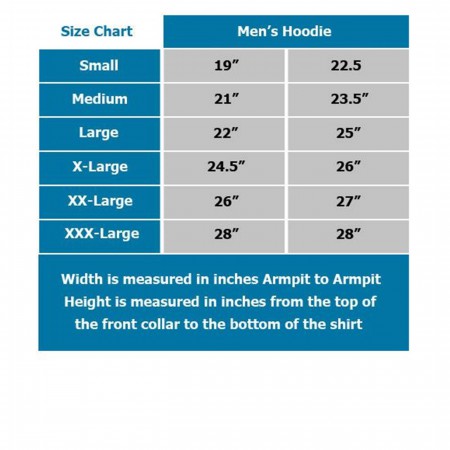 Shipping Guarantee
In stock items ship within 1 business day
The Batman Logo Men's Hoodie is screen- printed Batman symbol on a black hoodie! It's made from 50% cotton and 50% polyester. What more do you need in a Batman hoodie? Oh well, it's made to keep you warm and look cool... I mean, can you really look uncool while representing Batman? I think not!
More Details
Product Category:
Clothing & Apparel,
Sweatshirts & Hoodies
Reviews of Batman Logo Men's Hoodie
5.0 (Based on 37 reviews)
Molly
Fort Worth, TX
5.0
The hoodie came to us in a timely manner and is of good quality! We will be ordering from SuperHero Stuff again! The customer service department is very nice too and graciously added a coupon to my order after I had submitted it. I am pleased all the way around. Thank you.
Submitted 9 years ago
Batman fan
Florida
5.0
Good quality material for a decent price. It's Batman, so of course it's awesome!
Submitted 9 years ago
Rosebud
Grand Rapids Mi
5.0
This was a grift for my future son in law. He has worn and wasted it and it looks marvelous.
Submitted 10 years ago
Astrid

5.0
The material is perfect and it's incredibly cozy! Very nice quality in both fabric and the logo is still intact. A lot of thumbs up on this one.
Submitted 10 years ago
3.0
Comfortable hoodie, but like most it is not made for those over 6'. Too short in the sleeves. Definitely recommend in terms of comfort for those vertically challenged superheros. ;)
Submitted 10 years ago
Iris
Charlotte, nc
5.0
Love it ! Very comfortable and warmth!!
Submitted 9 years ago

Los Angeles, Ca.
5.0
Great quality and a gift favorite
Submitted 10 years ago
Big Joe
Bronxville, NY
4.0
very comfortable and warm and it hasn't shrunk!
Submitted 9 years ago
Joe
Linden, MI
5.0
Our college grandson was real pleased with the Batman hoodie. We gave it to him for Christmas. We got big hugs from him. He thinks he'll be the only person on campus with this hoodie. He has a large collection of Batman paraphernalia and so he now has the hoodie, too.
Submitted 10 years ago
Sandy
O'Fallon, MO
5.0
what a super sweatshirt!!!!!! it was a Christmas present for my daughter, and she loved it. good quality, and I got my sweatshirt in about 4 days. I will be ordering more in the future. I highly recommend "Super Heroes Company" to everyone. customer service was very friendly. thank you
Submitted 8 years ago
5.0
I Love this Hoodie. the materials are very good and warm
Submitted 10 years ago
Maddy
Toronto, ON
4.0
Great Sweater, Nice print. The only reason I'm giving it a 4/5 is because the descriptions says that the sweater is 100% pre-shrunk cotton but when I read the tag, it's 50/50 polyester cotton blend. :/ But otherwise awesome.
Submitted 10 years ago
Martin
Oslo
4.0
Its very nice, but quite expensive
Submitted 10 years ago
EH2siR
Elk Grove, CA
5.0
Nice Quality!! Came in Very Quick!! Hopes my Girlfriend Likes It!! Need to get Myself One Now!!
Submitted 9 years ago
The Man form U.N.C.L.E.
Chicago, Il
5.0
This was a present for a little girl who is just discovering The Dark Knight.
Submitted 10 years ago
Toni
Greeneville, TN
5.0
I received this as a birthday gift and I love it! It's very comfy and it's Batman, who doesn't love him?
Submitted 8 years ago
Jasmine :)

5.0
I couldn't wait for my hoodie to come in the mail and when it got here it was everything I thought it would be which is AMAZING! I get so many compliments on it. I think it's a great quality hoodie, the material is great and I've already washed it a couple of times and the iron on stays on, while others tend to chip off...overall I'm satisfied with my hoodie and I would recommend everyone to buy it because its a good quality hoodie and because its Batman duh!
Submitted 10 years ago
Cherry
Long Beach, CA
5.0
I get tons of compliments on this hoodie. It's warm and soft. The logo is great and it did well in the wash. I love this hoodie!!!!! BATMAN FOREVER!!!
Submitted 10 years ago
Skwid

5.0
This hoodie is awesome! I bought myself this as a reward, and LOVE ITI plan to get more Batman stuff from superherostuff.com.
Submitted 10 years ago
Zay
Tacoma,wa
5.0
the only downside to this item is that below the batman emblem, theres a tiny tm logo that is yellow. personally it annoyed me so i scratched it off, but other then that its flawless. i feel like a bad ass everytime i wear it.
Submitted 10 years ago
Bubbie to the rescue
Los Angeles, California
5.0
We gave this Hoodie to our grandson for his 12th birthday and he hasn't stopped wearing it, since. :No he isn't 25 now... but I think you get the idea... great quality... and of course perfect design for him.. Thank you SuperHeroStuff......
Submitted 10 years ago
Big Dave
Winnipeg, MB, CA
5.0
I own a lot of hoodies. This one has to be my favorite. Not only because it is Batman. But because it's super comfy and super warm. I absolutely love it!
Submitted 9 years ago

panorama city, ca
5.0
It is kinda expensive but my girlfriend loved it she had been looking for one for a while but love the material it. Great product
Submitted 10 years ago
Amy
East Lansing, MI
5.0
Great customer service with an quick exchange. Batman hoodie was even better than imagined. Great product & great company.
Submitted 9 years ago
5.0
My husband is a huge Batman fan so I am always ordering merchandise from your site and people always ask him where he got certain things and we both always mention your site.
Submitted 10 years ago
MRMTHRFKR
Toronto Ontario
5.0
What a terrible example. Seriously though, this shirt is black. It has sleeves, a hood, and a Batman logo. It's everything you could ask for in a Batman shirt. I've heard that the real Batman wears one while lounging around in the Bat cave while Alfred injects him with HGH. I love boobies.
Submitted 10 years ago
Socorro Elizabeth
Los Angeles, CA
5.0
Got this as a gift and am extremely satisfied with my purchase The logo is nice and large the fit of the hoodie is great for my boyfriend's size. I got a medium and he is about 5'10" and weighs 150 lbs. The hoodie reaches about his hip and the sleeves reach to about his wrists. Very satisfied with purchase and will not hesitate to buy again!
Submitted 9 years ago
5.0
My husband is a huge Batman fan and your site is the best because you have things we can't find anywhere else. The quality of this product is great its washed well and the fit is perfect.
Submitted 10 years ago