Batman Classic Symbol T-Shirt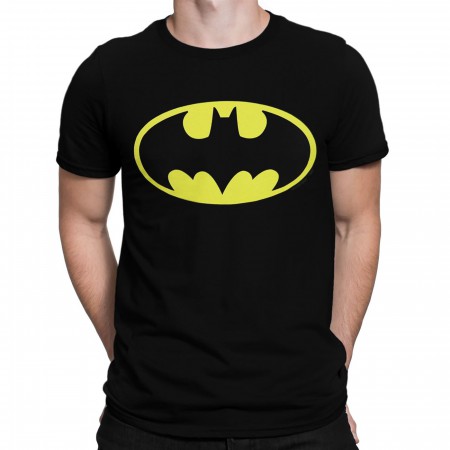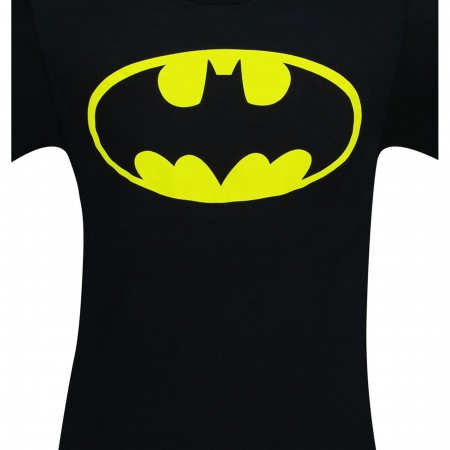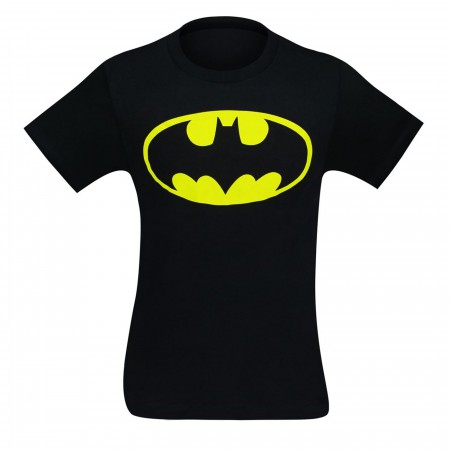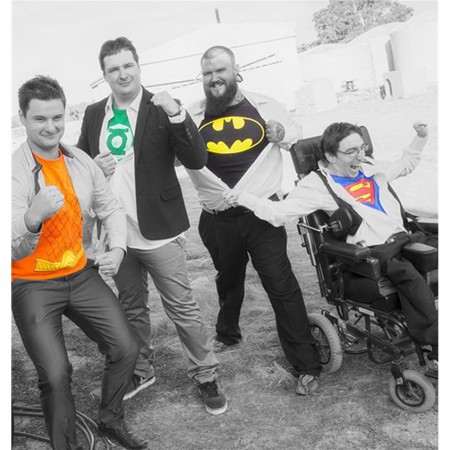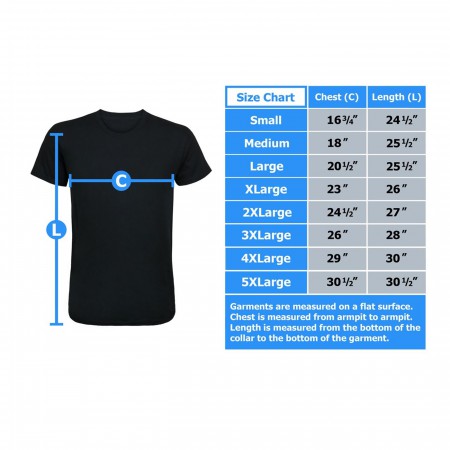 Batman Classic Symbol T-Shirt
Shipping Guarantee
In stock items ship within 1 business day
This Batman t-shirt features the beaming, screen-printed, ubiquitous Batman symbol adorning Batman's chest since the 1960s.

Potentially, this 100% cotton t-shirt is currently wrapping the torsos of most of your neighbors considering this is the best-selling Batman t-shirt OF ALL TIME!

A little history behind the Bat Symbol:
When writer Dennis O'Neil brought Batman back to his darker detective roots in the late '60s, legendary artist Neal Adams made a few changes to the costume, keeping the newly added yellow backing -- which mimicked the Bat Signal --  while enlarging the actual Bat emblem.

Adams also created a longer, flowing cape which would take on a life of its own and contribute a sense of flowing design merging consecutive comic panels.

As a disciple of Batman, and as a tortured protector of Gothic-tinged cityscapes, it is your duty to don the Batman Traditional T-Shirt and put an end to those clown-painted rapscallions preying on the meek and launching streaming poison from flower-shaped lapel pins!
More Details
Product Category:
Clothing & Apparel,
T-Shirts
Reviews of Batman Classic Symbol T-Shirt
5.0 (Based on 83 reviews)
Paul
Rapid City
5.0
Love batman, Love this shirt!
Submitted 11 years ago
AxlSh!t
Stade, Germany
5.0
great quality of the tshirt anf of the print
Submitted 9 years ago
Bmanskees
Winnipeg, MB, Canada
Submitted 9 years ago
Devin
Rocky Mount, VA
5.0
Great I have pictures showing it off under my tuxedo. Let me know if you want pics.
Submitted 10 years ago
fangirl
swansea ma
Submitted 9 years ago
Shengen
San Diego, CA
5.0
I have always wanted a Batman shirt and this one just perfect!
Submitted 9 years ago
Dawn
Mobile, AL
5.0
Nice weight to it. Some shrinkage, but that is expected with all cotten tees. Will definitely buy from you guys again, Christmas is coming up!!
Submitted 10 years ago
T
NY
5.0
This tee shirt is exactly as pictured and most comfortable, exactly what I have come to expect from this company. I only buy from SuperHeroStuff.com and always encourage others to do so as well, because so many other companies shirts are not of good quality fabric, they won't back them up if something goes wrong (once in many years, I did have a problem and it was handled promptly and courtesly) and the writing comes off quickly elsewhere at times...not here.
Submitted 10 years ago
Clark Kent
Smallville, KS
5.0
Great quality, durable, gets the ladies attention; unfortunately its not bullet proof.
Submitted 10 years ago
Emily
Az
4.0
Great t-shirt, not very soft, just an average shirt. I got it for my boyfriend while I got a Robin shirt, he loved it and that's what counts!
Submitted 9 years ago
Deborah
Chandler, AZ
Submitted 9 years ago
Melissa
Detroit, MI
5.0
great sizing and very comfortable
Submitted 9 years ago
Tony
San Antonio , tx
5.0
Fits comfortable nice shirt the classic batman tshirt love it
Submitted 9 years ago
Jenrang
Newcastle, Australia
5.0
Wore my Batman shirt to my school wear I teach, student confused me for Batman. I am Batman. Brilliant shirt. You must purchase.
Submitted 8 years ago
ChessBargirl
Chicago, Illinois
5.0
Came in a great time and fits great and wear all the time.
Submitted 10 years ago
New Bride
Indianapolis, IN
5.0
perfect for our wedding photo we did
Submitted 10 years ago
evil666
ny,ny
5.0
this was a xmas gift for my husband. Its one of the few things he had on his list for some reason men never grow up I guess lol. Quality of the shirt is top notch. I got him a medium and it was slighty big but a few washes and drying and we got it shrunk down to fit better. He LOVES it
Submitted 10 years ago
mary
canada
Submitted 9 years ago
Supergirl
Montreal Quebec
5.0
Excellent quality fabric exactly what I wanted
Submitted 9 years ago
A
Toronto
5.0
I like the large-soze logo and the t-shirt looks and feels great.
Submitted 9 years ago
ryan
san diego
5.0
Good quality shirt too!
Submitted 8 years ago
Reece
Australia
5.0
very happy with this shirt :D will be buying from this site again!!
Submitted 9 years ago
Lindy
Townsville, Queensland, Australia.
5.0
Awesome shirt, great quality. Thank you!
Submitted 8 years ago
Krabbman
Memphis, TN
5.0
This is a great shirt! Very comfortable, and for a big guy, I really appreciate that the XXXL version was available, and that it also didn't skimp on the length like some shirts from other vendors do on the larger sizes. Buy this shirt, you won't be disappointed! I'm already looking for my next purchase from SuperHeroStuff!
Submitted 10 years ago
Ernie
Bell Gardens, Ca
5.0
I enjoy this shirt very very much. its goes well with my collection of t-shirts, but the only problem is i never received (My Free Button) when i purchase this shirt.
Submitted 10 years ago
comicrock
San Luis Obispo, CA
5.0
I love this shirt! I bought it for my son for a Christmas gift and know he will love it. It is a great quality t-shirt. I will be buying from you again.
Submitted 8 years ago
Me
Tacoma, WA
2.0
Shirt is much thinner than others I have ordered off of this website. After just a few washing's and being hung up to dry the shirt is not holding up very well. Cracks in the Batman logo and unraveling of a couple of the seams too.
Submitted 9 years ago
Donna
Waverly, NE
5.0
Great product as well as service!!
Submitted 10 years ago
Bruce Wayne
Gotham City
5.0
Soft cotton material - great screen print - excellent quality. Had to make an exchange for a smaller size. Easy exchange - great company to do business with!
Submitted 10 years ago