Batman Tuxedo Costume Reveal Sublimated T-Shirt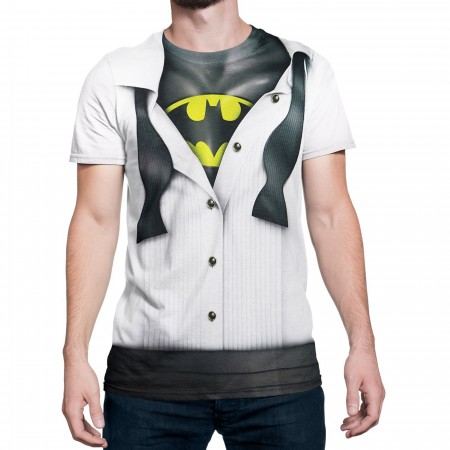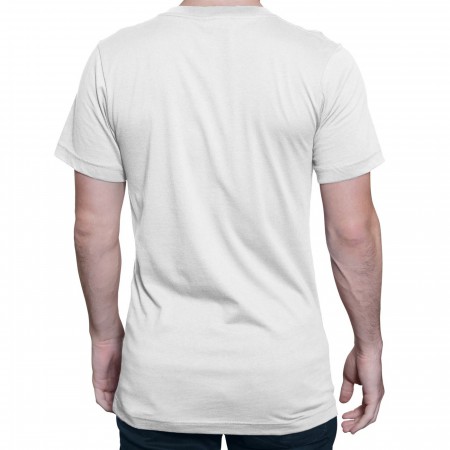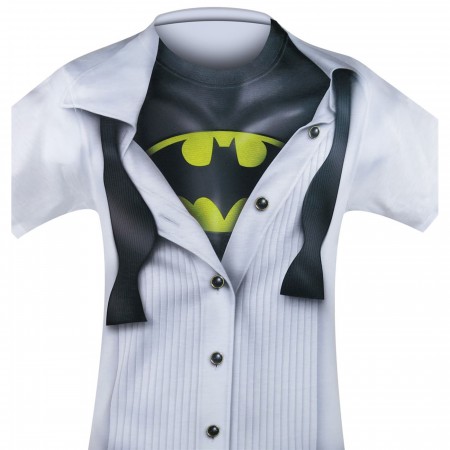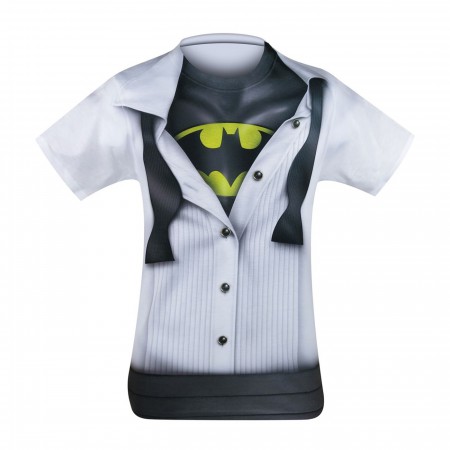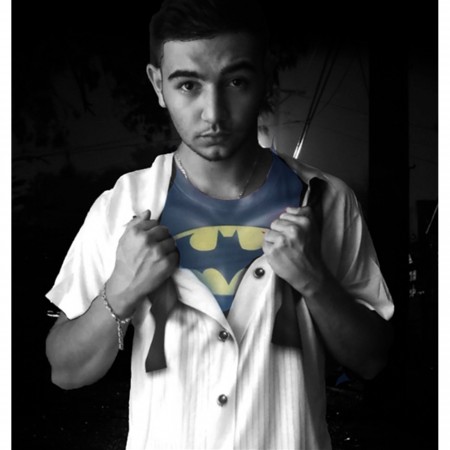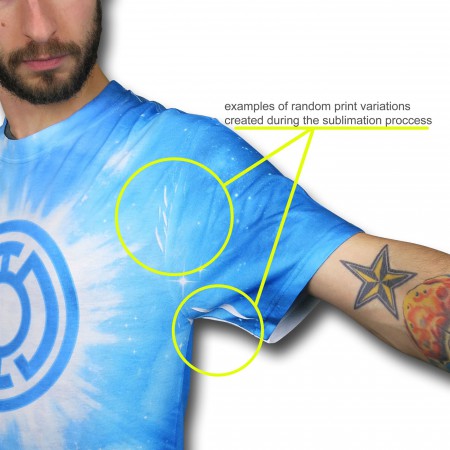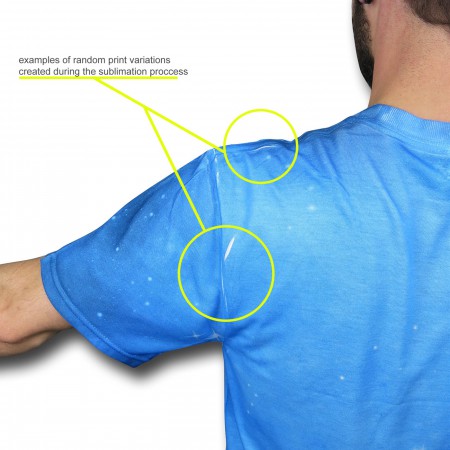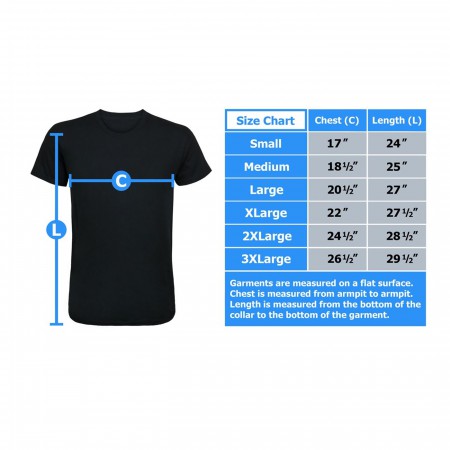 Batman Tuxedo Costume Reveal Sublimated T-Shirt
We'll let you know as soon as the item is back in stock!
Shipping Guarantee
In stock items ship within 1 business day
So after a long night schmoozing the high society of Gotham it is time to get to work...with the 100% polyester Batman Tuxedo Costume Reveal Sublimated T-Shirt! I guess we have all of our bases covered, eh? Made with a dye sublimation technique, the Batman Tuxedo Costume Reveal Sublimated T-Shirt emulates the 'faux-tux' look you often see at wedding receptions with the famous costume of DC Comics' Dark Knight! This thing is good for all sorts of stuff!
These are not your typical shirts; sublimation is a viable and durable solution to the industry standard of ink jet heat transfers. The sublimation process takes a large sheet of ink soaked paper heated to ridiculous temperatures which causes the ink to literally bind to the fabric. This causes the shirt's image to become amazingly resilient to the ravages of time! 

This technique can result in small imperfections, generally around the armpit, seams, and stretched spots on the shirt. It is something that is intrinsic with this process but it makes each shirt wholly unique.
More Details
Product Category:
Clothing & Apparel,
T-Shirts
Note: This item is promotionally priced, additional discount codes cannot be applied.
Reviews of Batman Tuxedo Costume Reveal Sublimated T-Shirt
4.5 (Based on 16 reviews)
Raybies
Australia
1.0
This has to be the worst t-shirt I've ever bought. I don't think you can even call it a t-shirt. It's a peace of non stretch plastic in the shape of a t-shirt and smaller than normal.
Submitted 8 years ago
The Bloomer
Montreal, Quebec, Canada
5.0
Product was great quality material and design. Also, the telephone service was fantastic. Very friendly and helpful to help ship it internationally priority
Submitted 8 years ago
Angela
Katy, TX
3.0
Shirt looks great, ink is not super dark but ok. The material is VERY thin. I ordered it for a school event and will probably only be worn once!
Submitted 8 years ago
NYBatman
Valley Stream, NY
5.0
Great tee shirt for your ultimate batman fan. Wear it with a jacket and jeans for that after party look. I love it. Nice fitting too.
Submitted 9 years ago
TrekFan
Sinai, Egypt
5.0
This shirt is fantastic and turns heads no matter where you go. Everyone does a double-take! Definitely cool!
Submitted 8 years ago
Scott
Ontario, Canada
2.0
The shirt itself is thin and soft, great for warmer weather. The problem with the shirt is that the colouring is not very dark at all. The picture on the website makes it seems as though the tie and Batman chest logo are a solid black, on the shirt that I received, it was a light black at best. Disappointing as I was very excited about this T-shirt.
Submitted 8 years ago
WSN
St Pete, FL
5.0
Compliments from everyone! Love it
Submitted 9 years ago
Ruby Merchant
Va,Spain
5.0
It just arrived home today and I have been wearing it the whole day and what I did not expect at all was….well…"I kinda expected it a little by the glimpse of it,maybe"; let me give you this guys:This tee is a total head twister,people from afar gazed at me and smiled at the time,some was making comments about it but the funniest thing was that some of ´hem had to look back again due to they could not believe what they had just dashed past without their knowledge.Everybody´s real memento for it seems.Even my four year´s baby daughter had a good chuckle over it when she just saw me wearing it by chance.What would people be thinking of me when in place?I simply did not care about it,I was just feeling like a real rockstar before the limelight and nothing else could compare to that. One of my favorites without a doubt. Superherostuff´s crew,YOU ALL ROCK COLEGAS!!!!
Submitted 9 years ago
DCMarvelKnight
Virginia
5.0
Very realistic looking. From a distance, several people thought I actually had on a tuxedo shirt and a Batman shirt underneath. I wore it to work and received many compliments.
Submitted 9 years ago
ComicFan
Canada
2.0
I got to different kind of t tshirts, didn't know this one will be onion layer thing.. you have to wear another tshirt underneath.
Submitted 8 years ago
Ruby Merchant
Va,Spain
5.0
What if I were in the middle of a party and my secret identity was exposed without my knowledge?Buttons zipped down,head reeling,reeling about drunkenly,blurred sight,crazy hair…..so much flirting and booze don´t come easy on anybody.Thank goodness it´s just a mere tee I am wearing under my tuxedo,yeah,yeah I kinda noticed,a tee with a bat logo on it and what is wrong with that? it´s just "I am a great fan of Batman",everybody would tend to see it that way…..unless they figured out that I am nothing messed up,that it´s all the eye and that this is part of my plan to bring to light what is cooking right down the hall. Exposed or not the Bat signal scares everybody off when in place.
Submitted 9 years ago
Dr E. Brown
FL
5.0
I have purchased this for myself, to wear at a drinks reception the day before our upcoming wedding, It is bar Far one of the best t shirts I have purchased, I like niche T-shirt designs and this is amazing! It feels like a normal t shirt but is slightly fitted, however this adds to the effect, looks like a tuxedo shirt from a distance.
Submitted 8 years ago
Phil
Gold Coast , Australia
Submitted 6 years ago
batsfan
chilliwack bc
5.0
when your batman and want to party
Submitted 4 years ago
Edwin Benjamin
NY, United States
4.0
This T shirt is so cool - long sleeve would be better - what a joy it is to reveal to NY I enjoy Batman
Submitted 3 years ago
Raymond Ramphal
NY, United States
5.0
The Batman Tuxedo costume reveal shirt is as it was shown on the site, it's COOL. When I put it on it's thin but when a zippered hoodie around it OH MAN the COOL factor went HIGH. I LIKE it.
Submitted 8 months ago