Captain America Sublimated Costume Fitness T-Shirt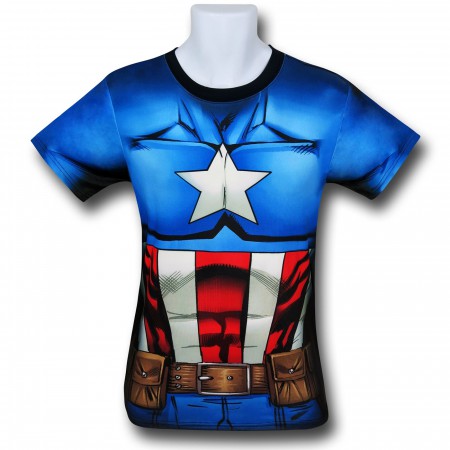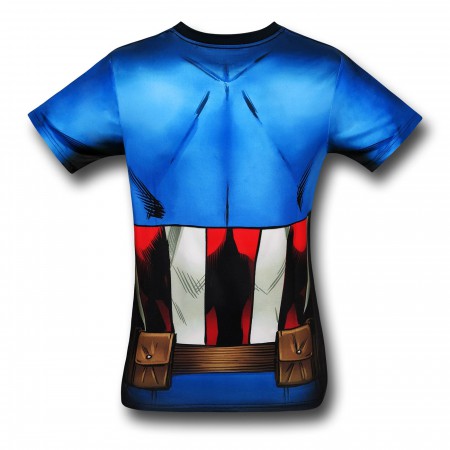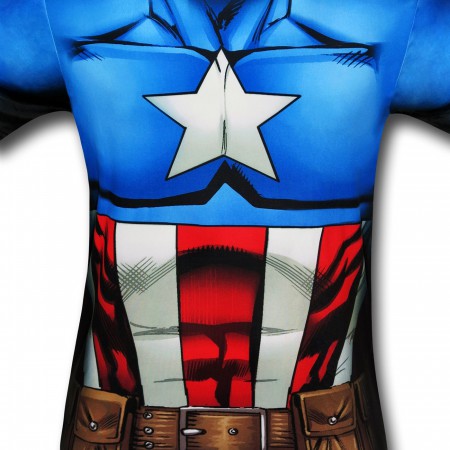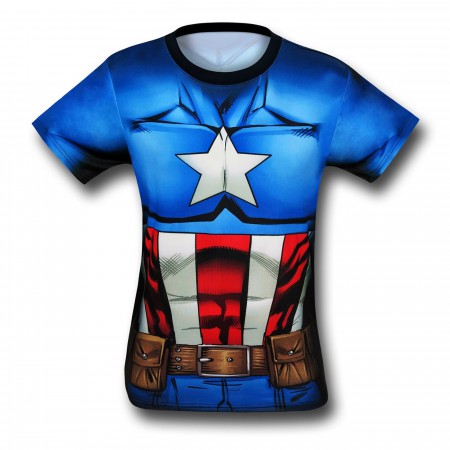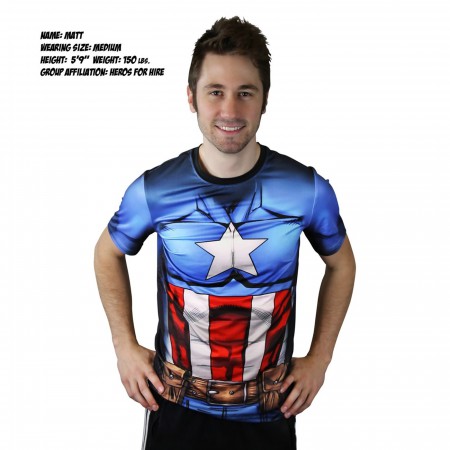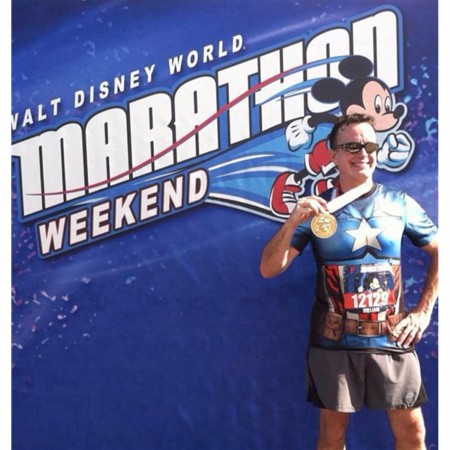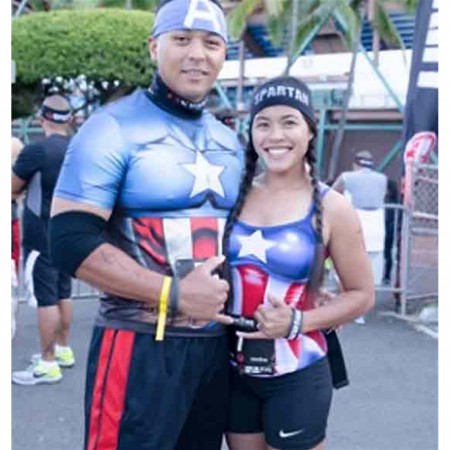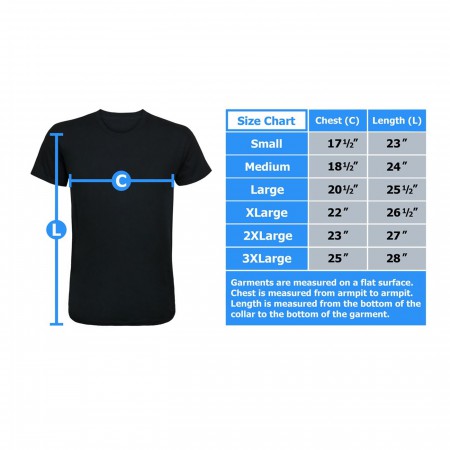 Captain America Sublimated Costume Fitness T-Shirt
We are not planning on bringing this item back currently, but we'll let you know if that changes!
We'll let you know as soon as the item is back in stock!
 Now you can preform in that USO show just like always wanted to with the 92% polyester 8% spandex Captain America Sublimated Costume Fitness T-Shirt! You just need to find some backup dancers, some Vita Rays, Super Solider Serum, and Hugo Weaving. Gotta have Agent Smith in there for it to count for anything! Intensely sheer and of the utmost quality, the Captain America Sublimated Costume Fitness T-Shirt emulates the First Avenger's torso with an all over and right-up-to-the-edge print that even makes wielders of the Tesseract jealous!
More Details
Product Brands:
Captain America,
Avengers
Product Category:
Clothing & Apparel,
T-Shirts
Reviews of Captain America Sublimated Costume Fitness T-Shirt
5.0 (Based on 18 reviews)
Craig McLarty
Phoenix, Arizona
5.0
I like all the shirts here. I receive good comments from everyone and many ask where I get them. I have the website memorized and let people know. I guess I'm a salesman now LOL.
Submitted 8 years ago
Joe B, N7
Toronto, Canada
5.0
I feel like a super soldier wearing this. The material is so smooth because it's polyester. My skin can breathe through it; it's great! The color just pops. I sometimes wear a long sleeve white shirt underneath which makes it a nice ensemble. From far away it looks like i got abs, rofl. Again, i love it.
Submitted 8 years ago
Ruby Merchant
Va,Spain
5.0
I have just come back from the gym and I gotta say that I´m impressed of the effects a mere tee can have on everybody!!On one hand before starting my training I saw a friend of mine at the gym who by the way got shocked as well and was feeling the need to take a picture at me,I told him not to but he insisted so….I gave in and I posed as only the Captain can do and on the other hand at time of coming out I saw a bunch of girls passing by and one of them replied that the tee made me being buff,what a day,really!!A plain success!! I still need to recover myself yet!OUUFF!And it´s been a day only,what will happen after a week or so?I wonder yet!!Capi,I dunno if you succeed in saving the country but you definitely excel as a heartbreaker too. EXTREME!!!THANKS TO YOU ALL SUPER TEAM!!
Submitted 8 years ago
Love Comic Books
New York, New York
4.0
I wore this at a recent cross-country race and people were complimenting me about the fitness shirt.
Submitted 8 years ago
Bill 28
Pittsburgh
5.0
The only negative is you can not dry it in the dryer. Great for working out in. I would love to see more of these style shirts.
Submitted 8 years ago
Ben
Australia
5.0
Design is beautiful and there are no imperfections anywhere to be seen. It fits nicely and looks really great on.
Submitted 8 years ago
Down Under Jesse
Sydney, Australia
4.0
Girlfriend wanted to buy me it in XL but accidentally got XXL, which turned out to be lucky as its tight across the chest still. Great shirt otherwise. Great colour and detail.
Submitted 8 years ago
Ruby Merchant
Va,Spain
5.0
It just arrived home couple hours ago and I was shocked by the design when I ripped the parcel off,it is truly Captain´s costume personification.It feels so soft to the touch that I would spend hours fiddling with the finger as if it were a velvet,it is also as light as a feather and it fits on my body as an authentic armor and to top it off I look like the Captain in the flesh,"this body of mine has been earned due to years of severe training";My wife keeps regretting the fact that she cannot find one of these for her as well,"no women stuff….what the fuc.."I always tell her that a HULKA tee or something would suit her best not a captain´s(chuckle) It´s definitely the shirt of the year!!I love superherostuff.com with the works!!
Submitted 8 years ago
@mrcamillo
Boston, MA
5.0
I'm a fan, if they made one with the Winter Soldier design I'd buy it!
Submitted 8 years ago
Ryan
Mililani, Hawaii
5.0
I recently wore this shirt on. Spartan dash in Aloha stadium in Hawaii. Everyone who saw it loved it, Thanks Herostuff.com.
Submitted 8 years ago
Lewis
Lansing, MI
5.0
Fit well, and looked great. It was exactly what I wanted.
Submitted 6 years ago
Chris
Peatone IL
Submitted 5 years ago
Runforfun
Denver, co
5.0
Great shirt....will be wearing it in the Super Hero half marathon. Fast shipping. Very pleased
Submitted 5 years ago
Mr. Blue
Pittsburgh, PA
5.0
Nice size, fit perfect
Submitted 4 years ago
Gemal
New York, NY
Submitted 4 years ago
thevizman
Detroit, MI
3.0
With the lycra material, this is going to hug you, even the 2X.
Submitted 4 years ago
Redneck superhero
Sector 2814
5.0
This shirt fits great and looks incredible!
Submitted 5 years ago
Jorge
Woodland Hills CA
5.0
Super cool looking. Fits awesome.
Submitted 4 years ago