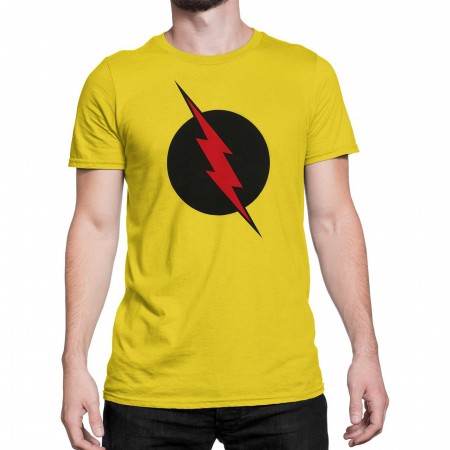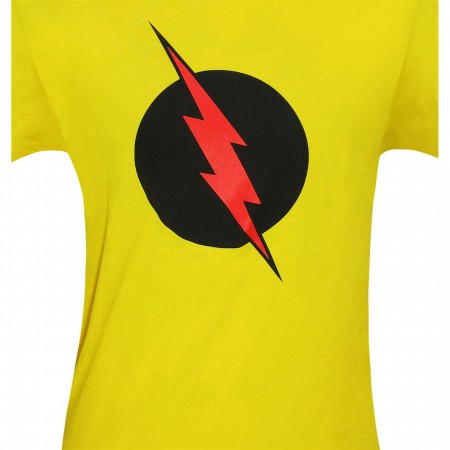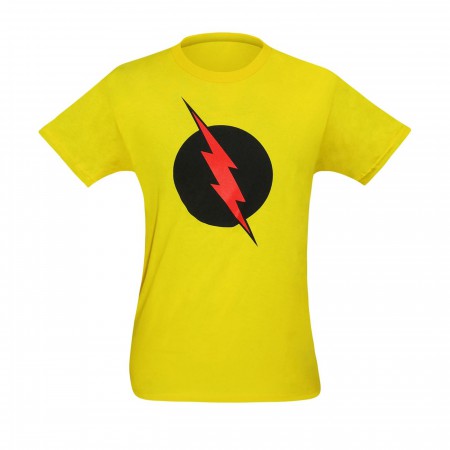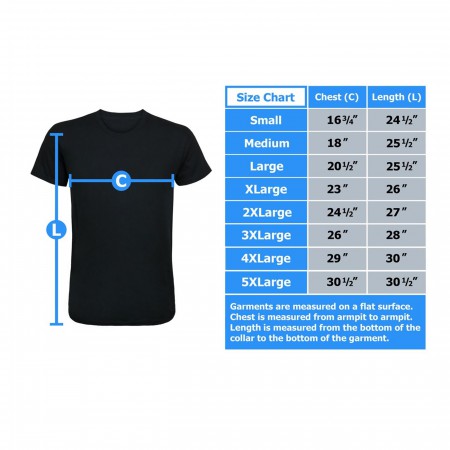 We'll let you know as soon as the item is back in stock!
Shipping Guarantee
In stock items ship within 1 business day
Tap into the Negative Speed Force with the 100% cotton Reverse Flash T-Shirt! Unfortunately, it won't fit into a costume ring nor will it allow you to control the flow of time around you; it'll just show off your love for the Reverse-Flash or one of the Zooms! Hey, don't ask me...DC Comics' Fastest Man Alive has a tendency to create a fair amount of temporal paradoxes. Yellow with a black and red symbol, the Reverse Flash T-Shirt may be from the 25th Century.
More Details
Product Brands:
Reverse Flash,
Flash,
Villains
Product Category:
Clothing & Apparel,
T-Shirts
Reviews of Reverse Flash T-Shirt
5.0 (Based on 34 reviews)
Harold
MA
4.0
Fits perfectly, is comfortable, and washes well.
Submitted 7 years ago
Tom
Ireland
4.0
Got this shirt in the post today and what can I say. This shirt is really great, very good quality and very comfortable to wear. I've wanted a reverse flash shirt for a while now and this one doesn't disappoint. I'm very happy with this shirt.
Submitted 8 years ago
Nessie Boy
Dundee, Scotland
5.0
This reverse flash t-shirt is amazing, I have had compliments from a lot of people, its very comfortable and I also have a regular flash t-shirt so this is another one for the collection.
Submitted 7 years ago
Kevin
Baltimore, MA
4.0
Great shirt, Vibrant colors and the logo is spotless. It's a little short, but I have a long torso.
Submitted 7 years ago
Aurora
Weslaco, Tx
5.0
It fit my husband great and he loved it. Perfect Christmas gift.
Submitted 7 years ago
David Hoffman
Hammonton NJ
5.0
Awesome shirt, great quality! The reverse flash himself would be very proud & honored! I've gotten numerous compliments from people on it!
Submitted 7 years ago
Jax-elcomicenthusiast
Farmington, MI
5.0
Only here will you find a dope, sweet, rare, custom shirt like this the reverse flash professor zoom i feel faster than light speed when wearing it excellent shirt
Submitted 7 years ago
Gideon
long branch, NJ
4.0
in short words this shirt is simply amazing!!!! a good fit for the size i ordered it in, also good quality!!!!! the reverse flash emblem/crest is nice size too, not too big nor too small, perfecct size. and while everyone is being a hero wearing there batman, superman, of flash shirts, i will be the villian wearing this awesome reverse flash shirt with pride hahahaa. the only thing i dont like is the shade of yellow, could have been a little darker, if it were i would have rated 5 stars, but other than that this shirt is phenomenal. if your a reverse flash fan, get this right friggin now!!!!!!
Submitted 7 years ago
Jake West
San Francisco, CA
4.0
Very comfy, and stirs up lot of compliments and conversations about Thawne, especially now with the new show on the CW
Submitted 7 years ago
Andrew, DC Comics fan
Beaver Dam,WI
5.0
My cousin ordered this shirt for me. It's outstanding, The shirt is a vibrant yellow, the logo is very bold. My only wish is that I'd love it just a bit more if the logo was as large as it is displayed in the picture. That's the only downside for me. I wish there were more Reverse Flash shirt, preferable with him on it.
Submitted 7 years ago
Chris H
DE
4.0
Only problem is there was a slight tear in the sleeve on the bottom where it's sewn together.
Submitted 5 years ago
Rob
Trevose, PA
5.0
Great shirt! Was a little large at first, but slightly shrunk in the wash and now fits well.
Submitted 5 years ago
Collin
Harrisonville, MO
5.0
I love the Reverse flash, he has the best looking costume in my opinion, this shirt fit great and looks great!
Submitted 5 years ago
Jim
Franklin, OH
5.0
Bought it as a gift. Really hot the mark.
Submitted 5 years ago
Scot
East Bay, CA
5.0
Really enjoy this design and quality.
Submitted 5 years ago
Jay
Ontario, CA
5.0
I have red bolts of lightning behind me when I wear it
Submitted 5 years ago
Zorack
Maryville, TN
Submitted 5 years ago
Yann, comics fans
Paris France
5.0
The shirt is very cool and i love it thanks you Super Heroes Stuff. I love your products, you rocks
Submitted 5 years ago
Rob Short
Poole Dorset UK
Submitted 5 years ago
Nomad
Bahrain
5.0
We need more reverse flash designs
Submitted 5 years ago
Jack
Little Rock, ar
Submitted 5 years ago
Glen, Superherostuff.com fan for life!
Plymouth, MA
5.0
I love it. Fits perfectly, very comfortable!
Submitted 4 years ago
Derek
Tampa
5.0
It is exactly what I ordered.
Submitted 4 years ago
Damaris Superhero stuff.com fan
NYC
5.0
Products excellent product
Submitted 4 years ago
Erin
Memphis, Tn
5.0
I know what it feels like to be Professor Zoom. WICKED AWESOME!
Submitted 4 years ago
SUE
EVERETT WA
Submitted 3 years ago
kevin
greensboro,nc
Submitted 4 years ago
Chris
Maryland
4.0
This shirt is nice. It fits nicely and is comfortable.
Submitted 4 years ago
Awesome
Bronx ny
5.0
Great shirt. Feels great
Submitted 4 years ago
Ismael
Florida
5.0
Excellent fit, bright color, and good quality
Submitted 3 years ago