Thor Movie Metal Mjolnir Hammer Keychain
$9.99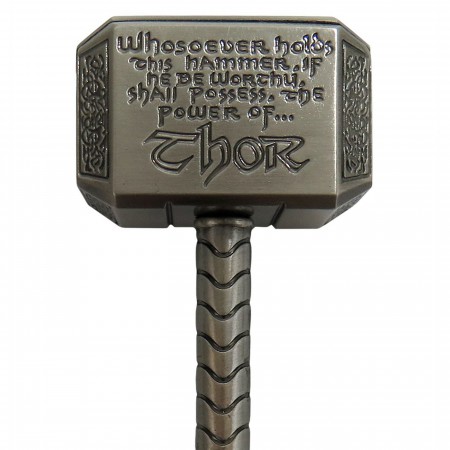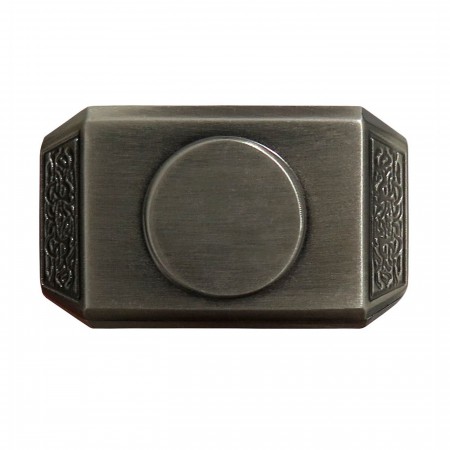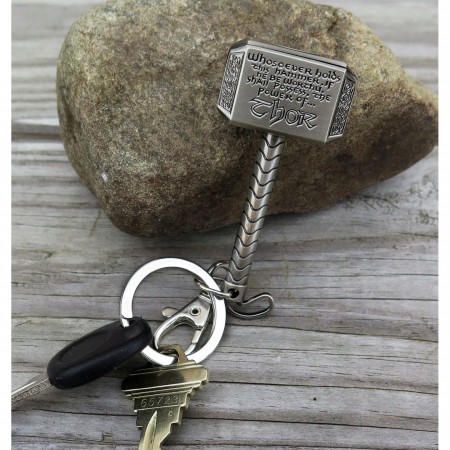 Thor Movie Metal Mjolnir Hammer Keychain
$9.99
Shipping Guarantee
In stock items ship within 1 business day
Here's the Thor Movie Metal Mjolnir Hammer Keychain: a replica of the bane of frost giants and doom of the enemies of the shining realm of Asgard;  the weapon of Thor the Mighty Avenger. The nicely detailed hammer is 3.25 inches long and 1.5 inches wide in solid pewter and features the engraved legend "Whosoever holds this hammer, if he be worthy, shall possess the power of...THOR."  So why not try to pick this up?  You never know...even if you don't get godlike power you won't lose your keys.  This is, after all, one big keychain!
More Details
Product Brands:
Thor,
Avengers
Product Category:
Accessories,
Key Chains & Key Rings
Reviews of Thor Movie Metal Mjolnir Hammer Keychain
5.0
(Based on 81 reviews)
nursevil
Oklahoma City
I love my keychain. I had problems with finding my keys before but not now. It is just perfect for when I am feeling in my pocket for my keys. I have had many people comment about how awesome it is and one of my friends ordered one because she liked it so much.
Submitted 6 years ago
Meg Harrison
Crookwell, Australia
its very cute and my friend loved it
Submitted 5 years ago
amber
augusta ga
bought as a gift for hubster, he loved it.
Submitted 6 years ago
Dianne
Cody WY
Expected this to be somewhat cheaply made but it is good quality.
Submitted 6 years ago
Lori McLuckie
Langley BC Canada
The product desisn itself is great, but where the hammer connects to the key change part should be of stronger material. My son in law bought one while at Comicon this year, that's how I heard of this product, but has since lost it. The hammer came apart from the key ring. He still has the ring part, but the best part was last.
Submitted 8 years ago
Kaylee
Muncie, IN
I was surprised that the key chain was actually a bit bigger than I expected. However, it is beautifully made. I bought it as a gift from someone and they loved it.
Submitted 6 years ago
Steven
Adelaide, Aus
Even better than i thought. It's bigger than i thought, aswell as heavier, Which weighs my keys just right while driving. Friends that have seen it, now want one too.
Submitted 5 years ago
Koddie
Salt Lake City, UT
Great quality, love this keychain!!
Submitted 5 years ago
Chaos
Vancouver, BC
It's the almighty Mjolnir!!! No need for a review, it's sick!
Submitted 7 years ago
Mikey
Australia
I use this to fight off car jackers
Submitted 7 years ago
Leo
Alberta, Canada
very nice weight and feel! To nitpick there are diagonal border on both sides of the hammer where the two pieces of metal are put together, but it's more of an esthetic issue than a functional one - you can still go around hitting people with your little (but mighty!) hammer! ;D
Submitted 6 years ago
Roger
Mesa AZ
I love this key chain! I was surprised at how heavy and solid it actually is. I think you could actually pound a nail in with this thing LOL
Submitted 5 years ago
Becky
Cleveland, OH
This was a present for my husband. He thought the concept was cool, but noted the hammer itself was crooked. It is heavier than you would think.
Submitted 5 years ago
Julie
UK
Much more substantial than it looks - it's heavy, the engraving is great, and it's a real nice gift. Love it!
Submitted 7 years ago
asianyoda
South Bend, IN
Love this key chain. didn't relies hoe heavy it is. Very well made and words are really clear to read.
Submitted 6 years ago
Ash
Gold Coast, QLD, Aus
Looks Awesome & is great quality, if your are thinking about getting this DO IT!
Submitted 6 years ago
Harold Daniel
Perú, Lambayeque
Submitted 6 years ago
Asgardian hero
Swanton OH
I could definitely take out anyone who wants to mess with me with my awesome Mjolnir keychain!
Submitted 6 years ago
Zsolt Simó
Sopron, Hungary
Verry cool looking keychain. Also VERY BIG for this purpose, but I don't mind. My only regret are, that I didnt order two of these, to have a backup.
Submitted 5 years ago
N.F.
Cleveland, OH
This keychain is no joke. I didn't think it would be that heavy, but it's awesome. It may bang up against the door and I don't throw my keys down on the glass coffee table because I think it may do some damage, but overall, I am very satisfied.
Submitted 5 years ago
Odin
San Diego
I was really surprised when this arrived. I ordered this as a Christmas present for my son Thor. It was much bigger and heavier than I anticipated. The quality is really significant and made me want to get one for myself. When I place my next order I will be getting another one of these.
Submitted 7 years ago
The kind of key ring that you put in a box and never touch. Because if you touch it (even just a little bit) it will break. Ordered two of these and one of them broke just by opening the packaging and the other broke by putting keys onto it. Wouldn't recommend buying this one unless you really like the look of the hammer's handle cause that's all you're going to be left with once the hammer falls off.
Submitted 8 years ago
Lexi
Melbourne, Australia
I'm loving this Key Chaing this thing is solid metal, I was a bit worried when I first ordered it that it would be cheap but it is tough and the inscription are awesome real top quality on this one get it for sure!
Submitted 6 years ago
Kathleen
Qc
Submitted 6 years ago
Terry Mic
Los Angeles, CA
I love this site. I'll Be Back!
Submitted 6 years ago
Crystal
Vancouver, Canada
This keychain rocks, Mjolnir will definitely keep me safe!
Submitted 6 years ago
SanPetardo
Rimini, Italy
The ring between the hammer and the hook is very fragile. It was broken in two days, so I drilled a larger hole in the handle to put a new ring and now it's work perfectly.
Submitted 6 years ago
Nits
Mumba, India
awesome one. Liked the delivery service. promt support. best keychain
Submitted 6 years ago

Florida
This was a gift to my friend who is a huge Thor fan and she absolutely loved it. Its not too heavy but will hurt if you hit someone with it lol. It looks great on her key chain. There really are no problems with it!
Submitted 7 years ago
cool stuff, my daughter likes it
Submitted 7 years ago