Spider-Man Venom Short Sleeve T-Shirt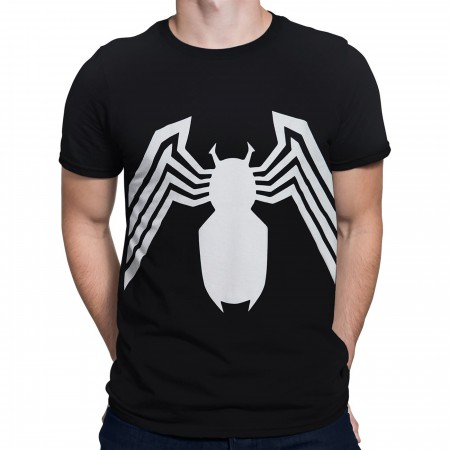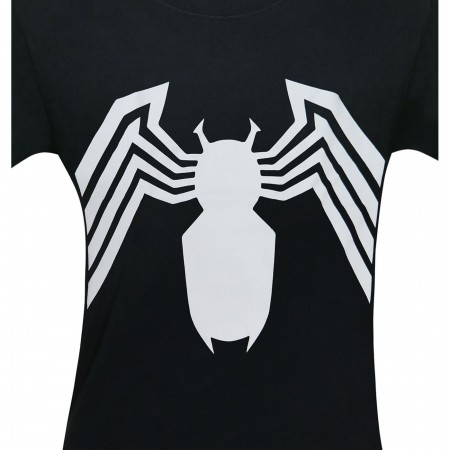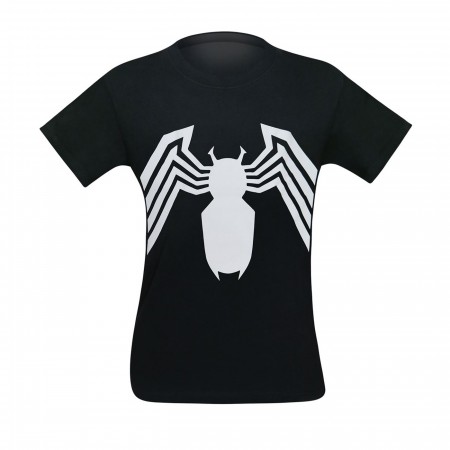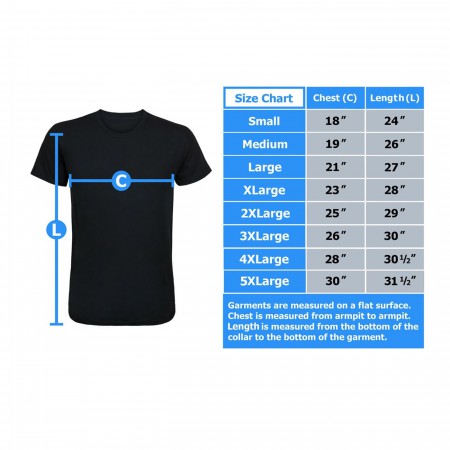 Spider-Man Venom Short Sleeve T-Shirt
We'll let you know as soon as the item is back in stock!
Shipping Guarantee
In stock items ship within 1 business day
WARNING! Do NOT, under any circumstances, feed this t-shirt!

Seriously, it's kind of alive and always, always hungry. And not just for living, breathing organic material -- it also dines on your delectable emotions!

Made from 100% cotton, this black Venom t-shirt features the symbiote's appropriated spider-symbol in all its jagged, aggressive and creepy glory. Heck, you can even hear it sliding around while it glistens in arbitrarily excreted drool.

So, if you're going to ignore our warning and purchase this Venom t-shirt, all I can say after it ingests Mr. Whiskers is....you brought this on yourself.
More Details
Product Brands:
Venom,
Spider-man,
Villains,
Maximum Venom
Product Category:
Clothing & Apparel,
T-Shirts
Reviews of Spider-Man Venom Short Sleeve T-Shirt
5.0 (Based on 54 reviews)
Venom fan
NY,NY
5.0
The quality of this shirt is perfect! As a big guy it's tough finding shirts that fit and are of a high quality but I found it here! I will definitely be ordering more in the future from this site.
Submitted 7 years ago
GregVersion2
Oakland, CA
5.0
A very well made shirt that is both comfortable and eye catching. Probably my favorite comic shirt that I own. Easy recommendation.
Submitted 10 years ago
dalton champion
pearland tx
5.0
love this shirt...but now i have to get the tanktop untill they are restocked
Submitted 10 years ago
Jurn de Ruijter
Rotterdam, The Netherlands
1.0
Cheap quality t-shirt. Fabric shines through... Image feels printed on. Have other marvel t-shirts and this shirt doesn't come near the quality of those shirts.
Submitted 9 years ago
Brian
Denmark
5.0
very nice quality and aturaly arviing about 5 days ahead of the projectede time fram
Submitted 10 years ago
KEG
Odense Denmark
5.0
I can´t really say anything other than, this is an awesome t-shirt!!! If you think that venom og just spidermans black suite rocks, then don´t think just buy it... :-)
Submitted 9 years ago
5.0
I love it, super comfortable and I have gotten so many complements about it when i wear it out.
Submitted 10 years ago
The Beast310
Lomita, CA
4.0
Love this Shirt! Venom Logo is printed on front and Back... Only complaint about this shirt is that the material is a bit See through and the site currently doesnt carry it in 3XL... Other wise this shirt is Amazing! will definately buy another one when they Carry 3XL
Submitted 9 years ago
Nick, Comicbook Fanboy
Germany
5.0
took 5 weeks to deliver ,but now im happy
Submitted 8 years ago
Helen
Canada
4.0
Very good quality cotton shirt, looks great. There is also a women's version of this shirt now.
Submitted 10 years ago
d
Winnipeg, Manitoba, Canada
5.0
Picture is on front/back...nice surprise. Great quality material.
Submitted 10 years ago
Jenn
Twin Cities, MN
5.0
The shirt looks and fits great: love how sharply the white logo pops against the black. Also, fast shipping. I was very happy with this purchase!
Submitted 10 years ago
Paul
WI
5.0
I am a big boy 290, bought the 3xl shirt length is long enough and shirt material feels durable. The symbol does feel very pressed on. but, doesn't seem to be cheap. I like this shirt a lot, going to wash I would recommend for us big guys to dry hang it...don't let this touch the dryer, just have a bad feeling about that !
Submitted 8 years ago
Matt
Canada B.C.
4.0
Great Shirt, I like the size of the logo on the front and the back, the gap in between the logos is far more than it should be unfortunately, (the legs from front to back should be connected), the shirt is also wide... not a slim-fit shirt in any way, if the lengths are similar I'd recommend getting a size smaller than one would normally wear. if a tighter fit is wanted, I find it fits very loose, although just finding a venom shirt with logos printed on front and back is all one can really ask for.
Submitted 8 years ago
Oroboros
Montréal, Canada
5.0
Double sided! Vynil is solid and well pressed. Good quality. Stitches could be stronger but in any case, today, I'll be buying my third one from this site. Not because its cheap but because i wear it over and over again. This shirt is a classic and its timeless.
Submitted 9 years ago
Kane Maloney
Iron Station, NC
5.0
Love the Venom character, the shirt is awesome, couldnt be happier with my purchase.
Submitted 9 years ago
5.0
i love this shirt! fits perfectly
Submitted 10 years ago
Paul
WI
5.0
I am a big guy roughly 290 ! I bought the 3xl, gotta say length was perfect and size around my body was perfect, I DO NOT dry these shirts out of fear of shrinkage lol
Submitted 8 years ago
Nolan
Canada
5.0
It's a nice quality shirt, the logo is a bit heavy but otherwise awesome. It looks better without the sleeves... Which I took off hah!
Submitted 10 years ago
Shawn
Milton
4.0
Awesome shirt with just a couple flaws, first be extremely careful with washing/folding & ironing this shirt, the print can get stuck to an iron very easily :P, also if you fold it the print will crease pretty badly (until the next wash) I just put it right onto a hanger out of the dryer now. Second, while I love the fact that it has a front & back print it would be even better if they connected at the sides, there is an ugly gap between the two that I can't get over, I'd willingly spend a few more dollars for a continuous back to front connecting print. Otherwise I love this shirt.
Submitted 9 years ago
Proto442
Montreal
4.0
It looks great, a little long. The large is very snug and the extra large is too big. All in all, great shirt.
Submitted 8 years ago
Jay
Hong Kong
5.0
Can't get enough of this one. Compliments everywhere. Great price for two prints (front and back). Definitely a steal.
Submitted 10 years ago
Rino Petrucci
Torremaggiore, Foggia, Italy
3.0
This shirt is worderful and originally too. Rino
Submitted 10 years ago
Stefan
Biarritz France
Submitted 8 years ago
Jason
Montreal
Submitted 10 years ago
BudweiserLIVE
St. Louis MO.
5.0
Got this shirt out of the box and loved it the moment I saw it. The makers of this shirt nailed it!! You look and feel like a bad ass the moment you slip it on!!!! I have lost count of how many superhero T shirts that I have. But this is my favorite ..... for now .... lol!!!! Many more that I want to get. I need to stay off this website until I have more money. LOL!!! Looks Great Fits Great and I get a lot of compliments and questions as to where i got the T Shirt. BUY ONE you will LOVE IT!!!
Submitted 9 years ago
Geoff
Modesto, CA
5.0
I'm a huge fan of Venom, and my favorite Spider-Man costume was the symbiote suit from the '80s, so a t-shirt commemorating the duo was bound to end up in my closet. I originally had a symbiote t-shirt with the logo only on the chest, but shrank in shirt sizes after a few years. I was happy to see it online, with the spider logo on the front AND back! I weigh about 175 lbs, am 5'10, and wear a medium. It fit well after washing, though the logo WILL crack after spending some time in the washing machine. Other than that, it feels great to wear and makes me FEEL great just wearing it! If you're feeling like wearing something that reps your friendly neighborhood wall-crawler but want something other than the original red and blue, I highly recommend this shirt. The price is a little higher than I would have thought, but the people at Superhero Stuff did a great job handling the shirt and sending it, so I have no complaints there. Get your Symbiote Spidey/Venom t-shirt today!
Submitted 6 years ago
Taylor
Wollongong
3.0
The fabric and the print are quite good but the symbol on the front split when I put the shirt on
Submitted 6 years ago
Super Dave
Canada
5.0
Great quality and love the symbol!
Submitted 5 years ago
Kara Zor-El
Montreal, Canada
5.0
Husband loves his shirt !!!
Submitted 5 years ago