Superman Symbol Steel Alloy Watch
$39.99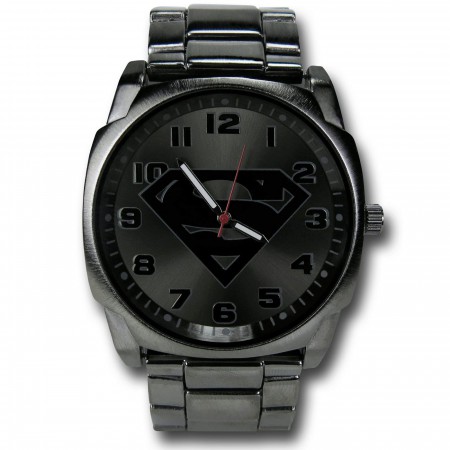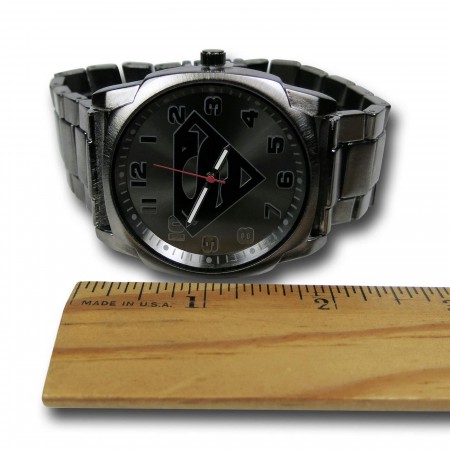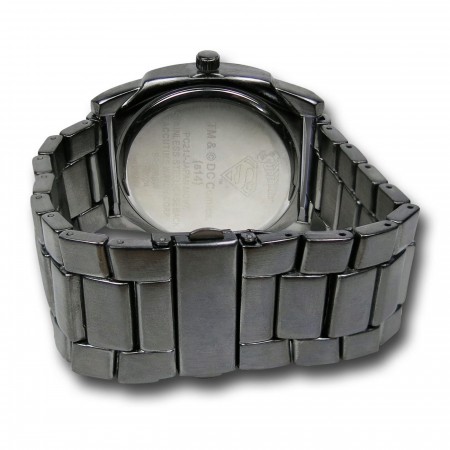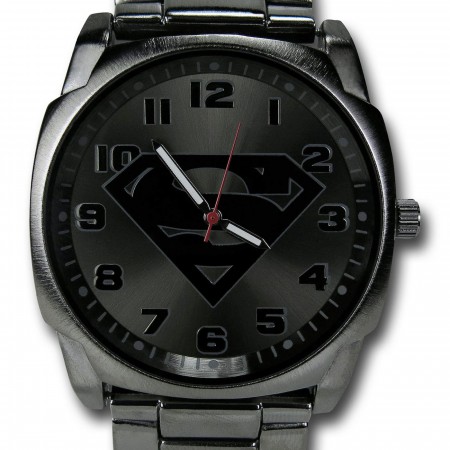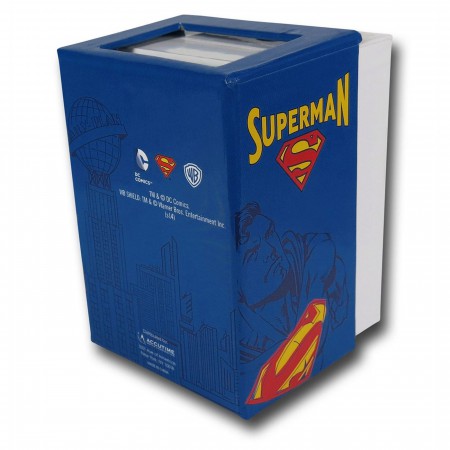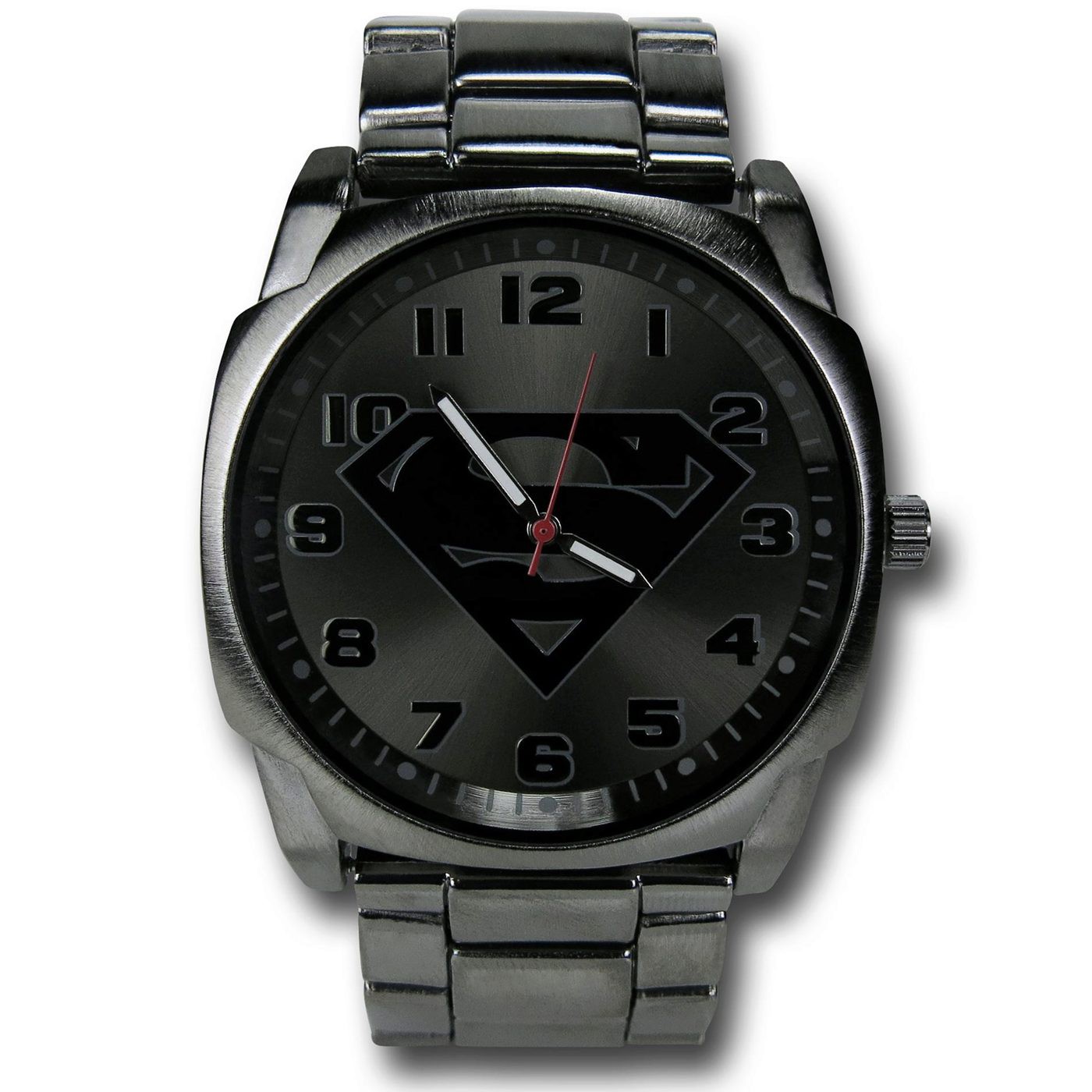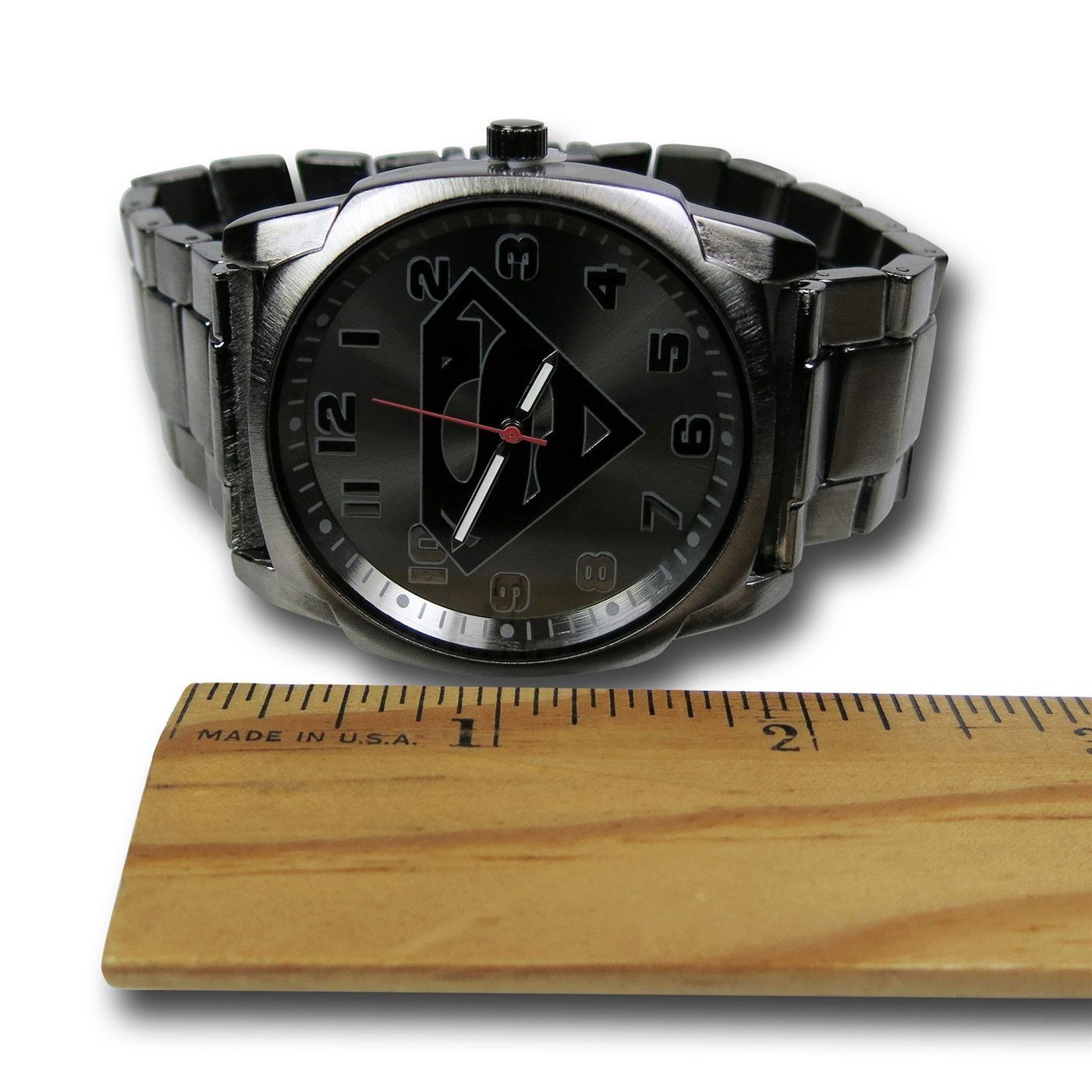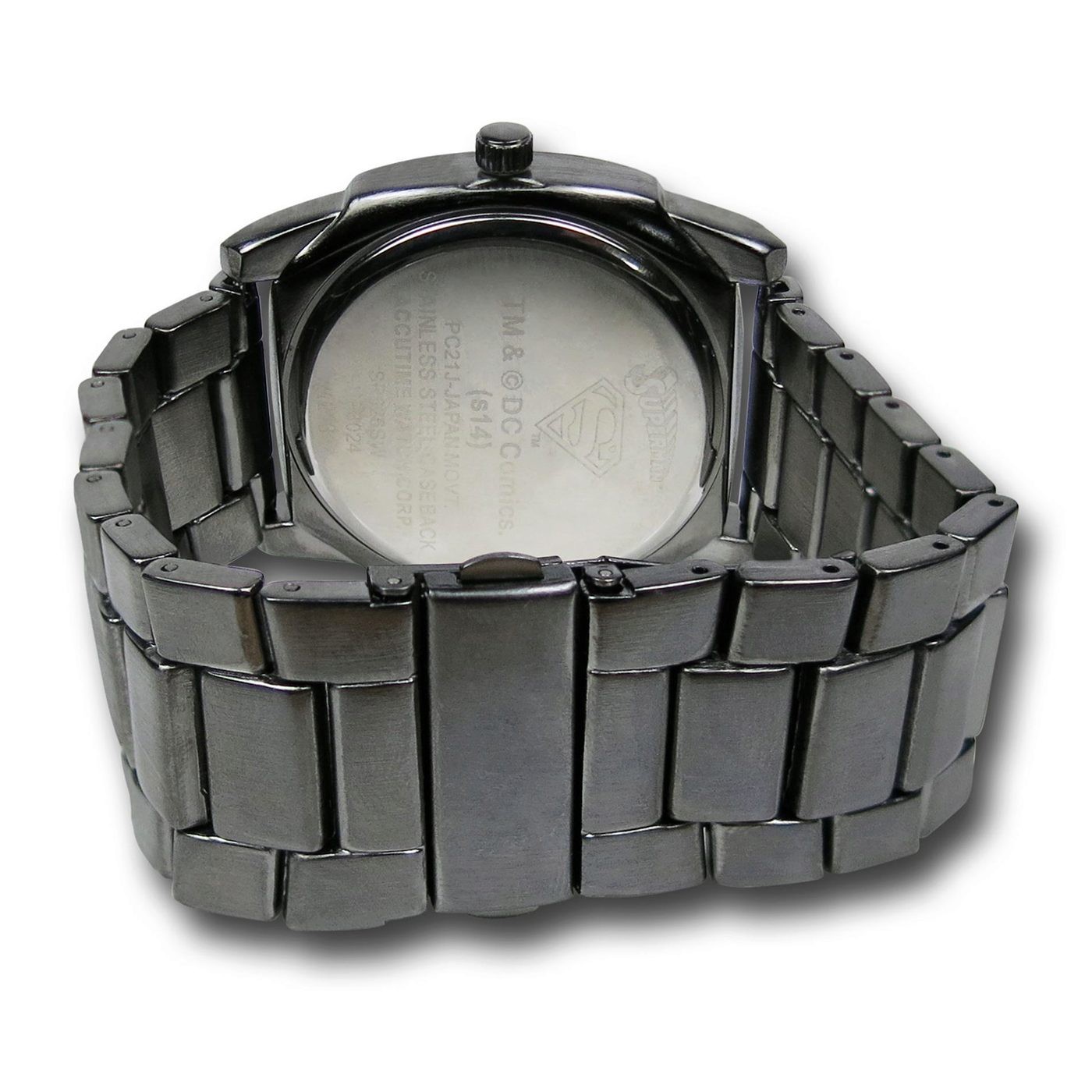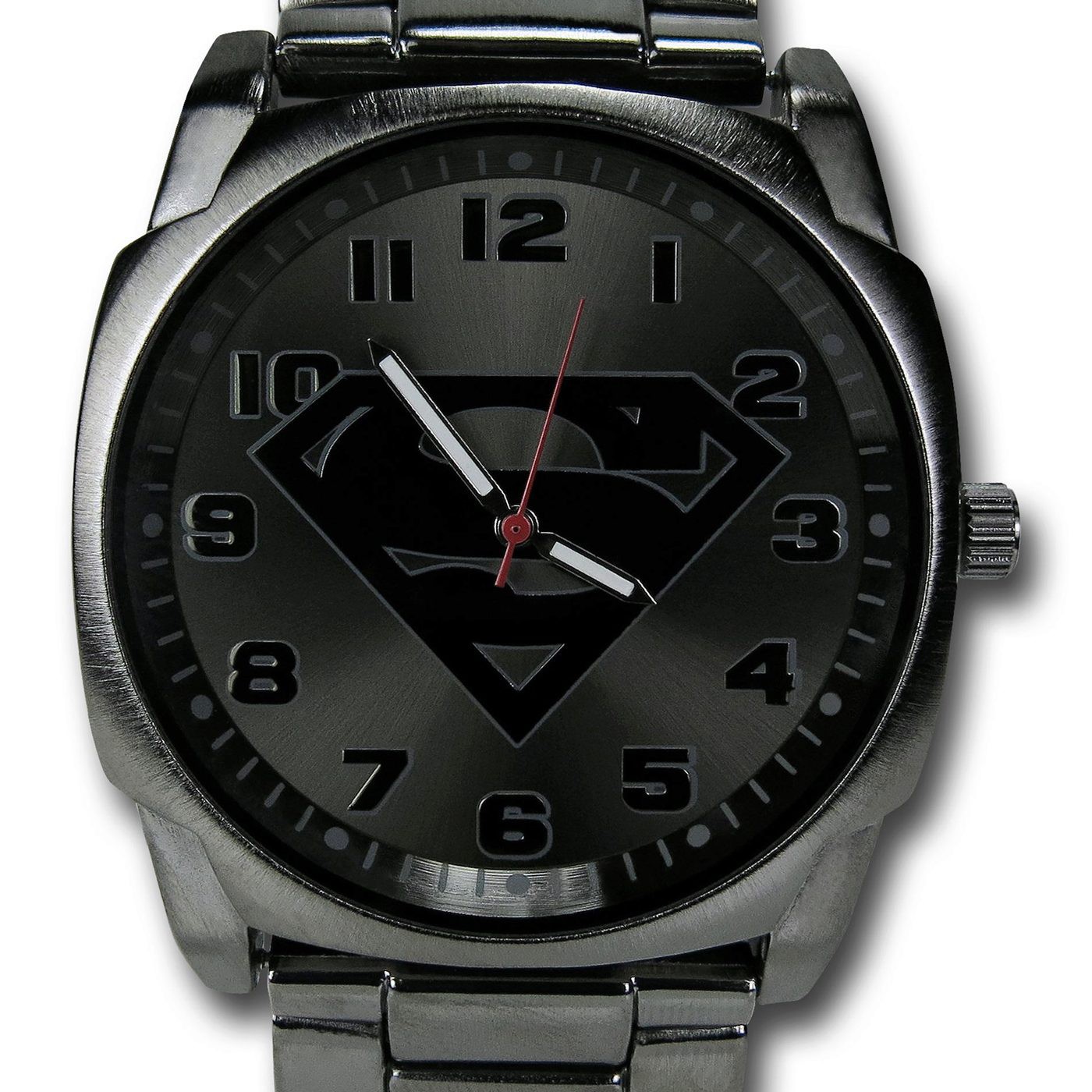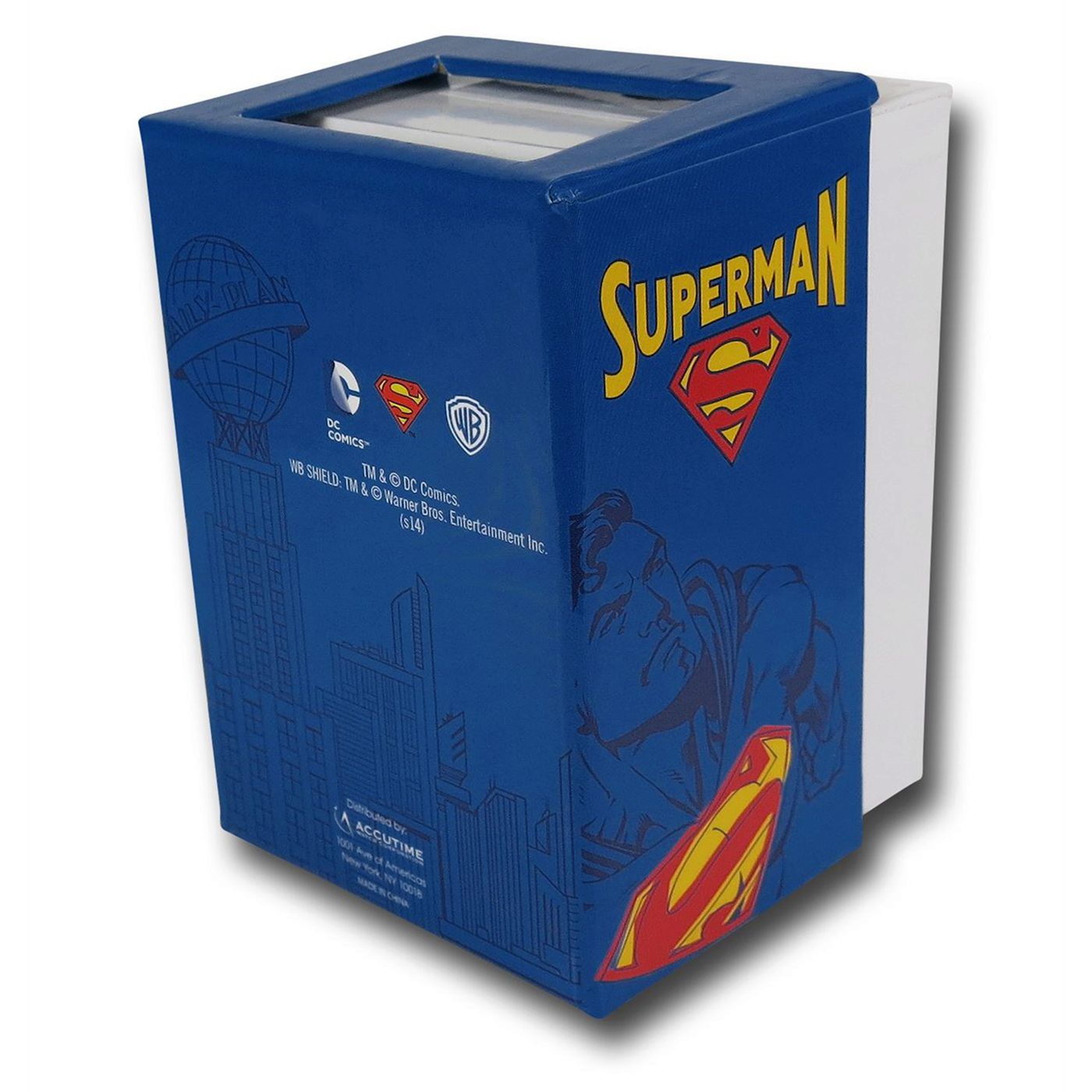 Superman Symbol Steel Alloy Watch
$39.99
Out Of Stock
When we got our first batch of watches in no less then an hour after we put it up one of my friends called our customer service department asking to speak to me, specifically because we didn't have any Superman watches at the time. Well, well, I guess the SSuperman Symbol Steel Alloy Watch is for you, isn't it Blazz? I'm going to be very disappointed if I don't see this shipping out to you! Inspired by DC Comics' flagship character, the Superman Symbol Steel Alloy Watch will help you keep track of things like Justice League meetings or, ugh, work schedules with its big ol' fancy black Superman symbol!

Product Specifications
-Movement- quartz
-Battery powered
-Manufacturer's 1 year limited warranty
-Case color- gun metal
-Caseback- stainless steel
-Pushbutton clasp
-Band- gun metal
-Case size- 41-mm diameter
-Band length- 200 mm
-Band width- 25 mm
More Details
Product Category:
Accessories,
Watches
Reviews of Superman Symbol Steel Alloy Watch
4.5
(Based on 24 reviews)
Kalel The Last Son Of Krypton
Ottawa Ontario Canada
Its a cool watch, works great. Just didn't come in the same box as the picture. But still a great buy
Submitted 5 years ago
Diana
Los Angeles, CA
I bought the watch for my Bf for Xmas, In general I like the watch, doesn't look cheap and looks like the picture. HOWEVER, I was a little disappointed in the color, the picture shows it as a dark watch. What I received was slightly lighter, which takes away a bit of the elegance.To sum this up, I was happy with the watch, so was my bf, and the wrist was perfect for his wrist(he has large wrists), The box is not the one in the picture.
Submitted 5 years ago
John
Rexburg, ID
I absolutely love this watch. I grew up with a superman watch for about 10 years, it was time to upgrade. And this has been perfect. I have been able to re-size the watch to fit my wrist. I just wish that it came in the same box that was in the picture.
Submitted 5 years ago
T
West Des Moines, Iowa
This watch is awesome. I had to remove a few links on the band myself but other than that my day went from mild mannered to super in 1 second. The watch face is large but it looks classy.
Submitted 5 years ago
Maher Superfan
Ontario Canada
great design, good quality watch colour in picture is darker then actual product but still great.
Submitted 5 years ago
Rose, green lantern fan girl
Melbourne, Australia
Honestly this watch would be perfect if the box it came in was similar to the one in the picture. I mean it's nice and all-- blue with the superman logo-- but I was buying the watch for a friend of mine and it wasn't the most classiest box. However, the watch is really pretty and I'm happy with the product itself!! The shipping was actually pretty quick too (2-3weeks) considering I live in Australia and I chose the cheapest option.
Submitted 5 years ago
Content Small-Wrist Jawa
Clovis, CA
The watch looks amazing! The only thing is that it is too big and slides on my (now-I-know-skinny) wrist. If it came with an optional adjustable strap, it would easily get 5 stars. Awesome watch, just a warning that, unless you have big wrists, it'll end up being more for display than to actually wear.
Submitted 5 years ago
Paul from fresno
Fresno, CA
The watch is amazing. Looks exactly like the picture and the fit is perfect! I'd love to see the same watch with the batman symbol. Great watch!
Submitted 5 years ago
Aloy
Cavite, Philippines
What this site claimed regarding this product is true. The gun steel finish is good and the superman embossed dial is the eye catcher...complimenting the contrast of the hour and minute hand color...and of course the size will bring that man of steel look in you. I know, because Im a watch hobbyist and i repair watch also.
Submitted 5 years ago
Frank O
Louisville, KY
not waterproof!!! got a little water on it washing my hands. crystal stays cloudy now for over a week now very cheap!!! dont buy!!!
Submitted 3 years ago
Spartababe
Houston, TX
My fiance loves superman and this watch was a great find (as he needed a new watch). Very classy and stylish. Absolutely love this site. Shipping was fast! Thanks for a great product
Submitted 3 years ago
Leanne
UK
Really nice watch. Excellent quality and a very cool design. Really solid on the wrist, good size. Overall a really nice, chunky, quality and wonderfully geeky watch. A must for Superman fans.
Submitted 3 years ago
Nikqua
NC
I brought this watch for my fiance for Christmas, he loved it. The watch fits him perfectly. I'm happy I found this website at the right time.
Submitted 3 years ago
Steph
Arnold, MO
This watch looks really cool and good quality in the pic, but the band will turn your wrist green.
Submitted 2 years ago
patrick Heward
cornwall ontario Canada
This is one fine looking watch. Feels solid and strong, looks great, It truly is a super watch!
Submitted 3 years ago
Marta
NJ
The Recipient loved this watch as their Christmas gift. He's a real Superman fan!
Submitted 2 years ago
Anthony
Montreal, QC
It looked amazing and was working great!
Submitted 2 years ago
David, SuperHero Stuff.com fan
Las Vegas, NV.
I am very pleased with this item. The photos if anything do not do justice to the quality.
Submitted 2 years ago
Regan
Woodstock, GA
It has a great look to it and an even better feel! Never want to take it off!
Submitted 2 years ago
Christina Fasanella
Trenton, NJ
Submitted 2 years ago
Leslie
Chicago
Beautiful watch, just need extra bands. Otherwise, well made. Elegant.
Submitted 2 years ago
superman watch
Cornwall ONtario
great! keeps time perfect,,,solid, comfortable.. looks great.
Submitted 1 year ago
RPerri
Collegeville, PA
Great guy's casual or more professional look/dressed for work watch. Great price too!
Submitted 1 year ago
Daniel Aragon
Apple Valley ca
Submitted 1 year ago