Wonder Woman Triangle Monokini Women's Swimsuit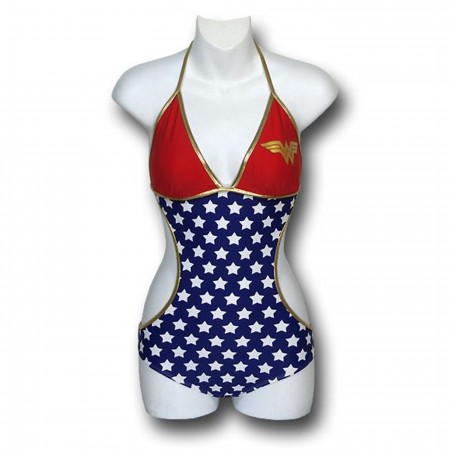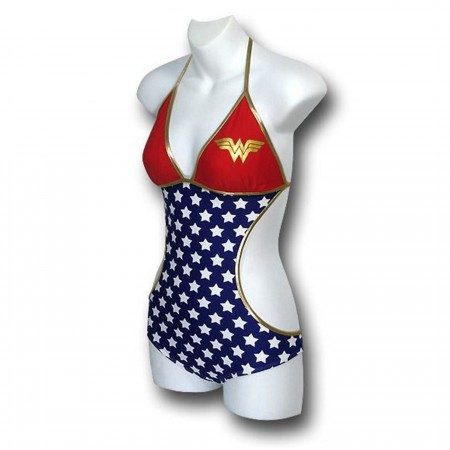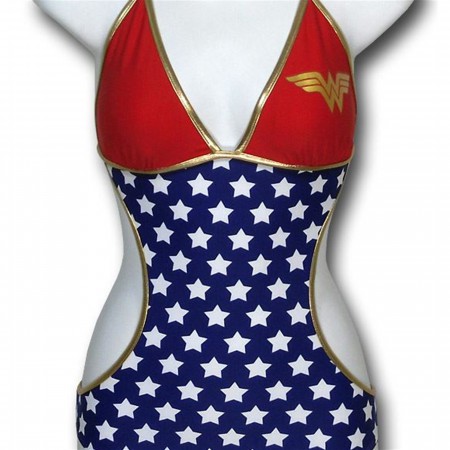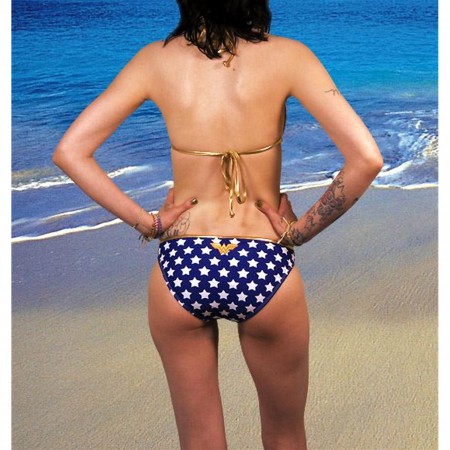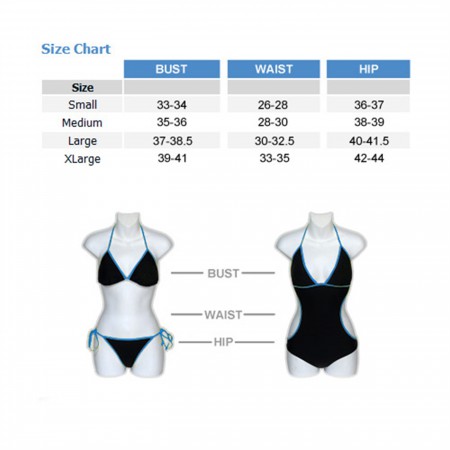 Wonder Woman Triangle Monokini Women's Swimsuit
We are not planning on bringing this item back currently, but we'll let you know if that changes!
We'll let you know as soon as the item is back in stock!
With the body made from 80% Nylon and 20% spandex, and a lining made from 100% polyester, this red and blue, one-piece swimsuit for women features a red top adorned with a golden Wonder Woman symbol! And check out the star spangled torso that also happens to be sporting a Wonder Woman symbol on the lower back-area. NEAT! This one-piece Wonder Woman swimsuit also features gold-foil trim and highlights, as well as gold-foil, elastic tie-strings for a comfortable fit! The second any female touches ground on Paradise Island, one of these Wonder Woman "monokinis" drops from a Pegasus or something and into their travel bag. Yup.
 
More Details
Product Brands:
Wonder Woman
Product Category:
Clothing & Apparel,
Swimwear
Reviews of Wonder Woman Triangle Monokini Women's Swimsuit
4.5 (Based on 20 reviews)
Cecilia, Fangirl
NS, Canada
5.0
I bought it last summer and am still wearing it this summer! It's a fantastic bathing suit! Love it!
Submitted 9 years ago
WonderNikki
NY, NY
4.0
The suit was great. I actually wore it over my workout tights and sports bra as part of a themed obstacle course team. My teammate and i wore identical suits that we ordered. It was a hit and it fit me great. I haven't worn it as an actual swim suit yet but I will.
Submitted 9 years ago
JA Twin Mom
Plano, TX
2.0
I got this suit, and was bummed that the abdomen area is kind of long. I am hoping to alter it. The quality of the items is fantastic, but I will not buy another swimsuit on line EVER. I wanted to Superman (and Batman) one too, but not too sure how the size comparison of a L will be. Just be sure you can fit the item! I hope a tailor can fix the XL suit I ordered, or I will be totally bummed.
Submitted 10 years ago
Harley Quinn Luver
Adelaide, South Australia
5.0
I bought these as a present for my 17 year old niece & she LOVES them! Thanks for making me the best Aunty ever. True to size & I was amazed how quickly I received them considering the holiday break.
Submitted 9 years ago

Toronto, ON
5.0
There can't be more fabulous!!!
Submitted 10 years ago
Neverdust
New York
3.0
I loved it, but it was strongly suggested to me that I return it, and for the amount of money, and other people's disapproval, I caved. It fit well (I got a Small) and it was fun and flattering (I thought), but it is definitely going to grab attention.
Submitted 10 years ago
Janet
Oxnard ca
1.0
I had liked this product when I saw it online I was happy to recieve it . Then when I went to try it on It was to long for me the torso area was to long I called so i could returned it and they don't take them back I just have it there sitting down I think it's just waste of money . I wouldn't recommended .
Submitted 9 years ago
NerdGirl
Austin, TX
5.0
I usually get medium shirts and large bottoms, and as I read other comments that sizes ran small, I went with an x-large. I was worried the top wouldn't fit well, but the top fits just fine! The bottoms fit perfectly, too, so I also recommend that people go a size up based on the bottom portion, you can tighten the top straps to make that fit better :). The material is good quality, too! I'm 5'10" and the torso length seems pretty long (it fits me, though), so if you're shorter, you might want to take that into consideration.
Submitted 10 years ago
Kylie
Riverside, Ca
4.0
The only thing I have to complain about it that ladies with bigger chests have a harder time fitting without the neck straps being super uncomfortable. Come on, wonder woman was an Amazonian woman.
Submitted 10 years ago
Daimaris
Miami, FL
5.0
Bought this a few weeks ago fits me perfectly i am very slim and short so it fits well for XS.
Submitted 10 years ago
Deborah
Sacramento, ca
5.0
Perfect! It was the best reward for a strong finish to a fitness challenge. My only change would be that it be a Green Lantern suit. Alas! I am actually a green lantern fan, but they don't make swim suits for green lantern. :(
Submitted 10 years ago

Maine
5.0
Love, love my wonder woman monokini!!!
Submitted 11 years ago
4.0
My boyfriend just loves it
Submitted 10 years ago
Corin
California
5.0
This is an absolutely wonderful swimsuit! You would not believe how many compliments I got wearing it from girls and guys alike. It's an incredibly flattering style and the colors really pop!
Submitted 10 years ago
BullyWench
Montreal, Canada
4.0
I'm a petite gal and ordered the size Small (I'm 98 pounds, 5 feet tall, 32D chest, 35Hips) and the top and bottom part fit perfectly. I'm happy that 'the girls' are decently covered and I don't feel like I'm spilling out. The problem for me is the torso of this monokini is waaaaay too long for me. However, this bathing suit has sentimental significance for me and it's worth paying the alterations at the seamstress (I'll have it shortened via the seam under the bust). Although this will change the shape of the front panel a bit, I'll still feel like a fashionable superhero :)
Submitted 8 years ago
Wonder Woman fan
Fort. Lauderdale, Fl
Submitted 10 years ago
Jodie
Deniliquin NSW
4.0
I love my new swimmers. Great quality material. Unfortunately the body was way too long so I had to shorten it.
Submitted 10 years ago
Brie
Pearl Harbor, Hawaii
4.0
Pros: Lots of compliments from family, friends, and complete strangers. Almost every time I hit the beach, I get at least one person loving this suit. I'm in between sizes, usually wear 9s or 10s, but I bought the medium (8) and it's perfect for me. I'm 5'8" 34-36C, 32-34W, 39H when I bought the suit. The colors are rich and the red has a perfect blue undertone, giving it that rich, blood red I love (as opposed to that hideous cherry red, or any orange-toned reds from the 60s and 70s). Cons: Even after washing the ocean water off, the gold is losing its metallic shine. Underneath is an ugly mustard yellow. Gold supporting under the breasts is still intact, however around the stomach, buttocks, and where you tie the strings together is really faded. Not as pretty anymore. But only the wearer will notice. Guys don't notice that sorta thing, so if you're at the beach to show off (like I am), then you only need your Wonder Woman bod, not the details men overlook. Also, one of my strings to tie around the chest-back area is unraveling. Nothing my mom can't fix...but she's a couple thousand miles away. Overall, it's worth the natural wear and tear. I just didn't expect a Wonder Woman suit to wear so quickly. Maybe if Wonder Woman merchandise was actually made in America...
Submitted 8 years ago
Robyn, SuperHeroStuff.com fan
Northeast Pennsylvania
1.0
Think the stars go up too high. Red was always the dominant color as far back as I could remember.
Submitted 6 years ago