Nightwing Logo Men's Hoodie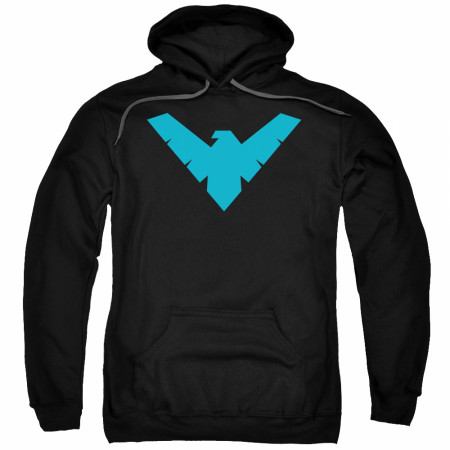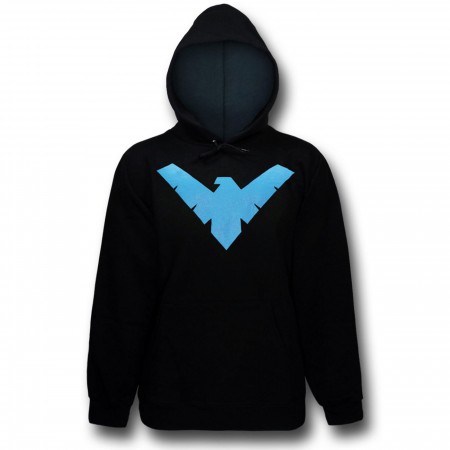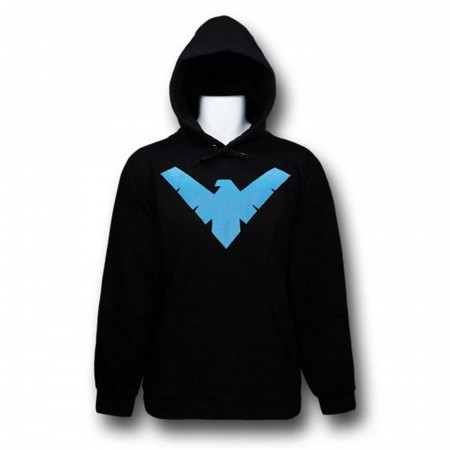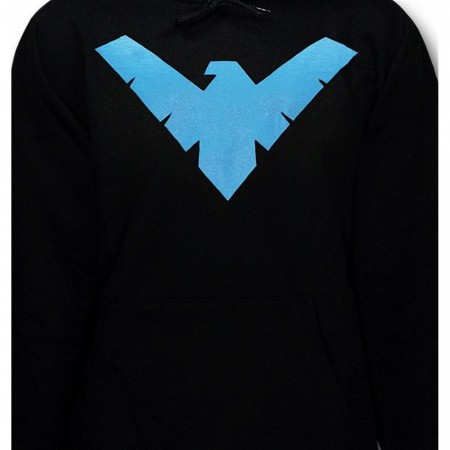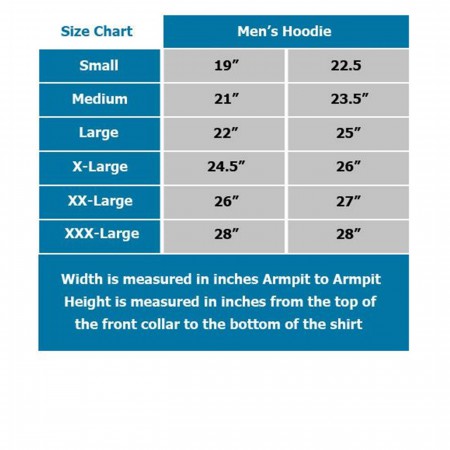 Nightwing Logo Men's Hoodie
Shipping Guarantee
In stock items ship within 1 business day
At long last, we present the Nightwing Logo Men's Hoodie! It must get chilly up there, perched on that gargoyle...waiting for Deathstroke to show up. Or a spontaneous Teen Titans reunion. Or that call from Bruce. Or Barbara. I guess Bruce is the longshot there...he's terrible at staying in touch. Especially if he's busy being "deceased" - which might just be what he puts on his voicemail when he's back in time being a pirate or a caveman or something. This 50/50 poly/cotton blend black hoodie features Nightwing's symbol in bold, blue print and should be just the thing to keep you warm on those slower nights. Alfred can't make cocoa every day!
More Details
Product Brands:
Nightwing,
Batman,
Robin
Product Category:
Clothing & Apparel,
Sweatshirts & Hoodies
Reviews of Nightwing Logo Men's Hoodie
5.0 (Based on 48 reviews)
dragonlildragon
toronto canada
5.0
Awesome quality hoodie. Loving It
Submitted 8 years ago
Marine D.
Valence, FR
5.0
EN : This hoodie is great, warm, and comfy, the logo (wich is really good) resist several washes (inside out) without moving. I order it in XL for a birthday gift and it was a bit large for the person I gifted (especially the sleeves), you can xear many clothes under this hoodie. I really recommand it :) FR : Ce hoodie est vraiment super, il est chaud et confortable. Le logo (qui est très chouette) résiste bien aux lavages (si on le retourne évidemment) sans bouger. Je l'ai commandé en XL pour un anniversaire et la personne à qui je l'ai offert flotte pas mal dedans, il y a vraiment de la place pour mettre d'autre vêtements en dessous (les manches sont très large d'ailleurs). Je le recommande vraiment :)
Submitted 8 years ago
Gracie
illinois
5.0
I love it, people compliment me all the time!
Submitted 10 years ago
Nashville Dave
Nashville
5.0
This shirt looks great and wears very well. Plus, it's quite warm. First time I wore it out, I had more than one person tell me how great it looked. Frankly, there aren't many Nightwing hoodies/sweatshirts being worn out there so to have something cool and distinct is all the better. Buy this.
Submitted 8 years ago
4.0
Sizing was a little Small then normal men's sizing overall great product though
Submitted 10 years ago
4.0
Sizing was certainly smaller than expected
Submitted 10 years ago
Joey
Ogden, ut
5.0
I love this online store. The clothes here are great. Being a plus xtra size guy I would like to see more plus size shirts in more than one character. Many shirts I would buy, but none are in my size. 3xl shirts would be great thank you.
Submitted 8 years ago
Super Hero Fan
Crest Hill, IL
5.0
We were very pleased with the hoodie. The fabric is very nice and heavy and the sizing seems to be right on.
Submitted 10 years ago
Steve
Adelaide, South Australia
3.0
The product is well made and warm it fits well
Submitted 8 years ago
Alexa
Canada
5.0
I really like it, it's good quality and very soft. I washed it twice in delicate and low temperature to dry and it is still very soft. I just wish it was a little longer in length, but otherwise it's perfect. I love it!
Submitted 7 years ago
SUPERFLYTNT
Thousand Oaks, CA
5.0
This sweaters pretty plush, man, I gotta say. Super soft, and definitely keeps you warm after dark. Plus girls dig Nightwing.
Submitted 9 years ago
Jordan
Rio Rancho, NM
Submitted 10 years ago

NZ
2.0
The hoodie itself is great, nice quality and well made. But the nightwing symbol is not. Its got that stiff, plastic feel that makes you scared to wash it. Its already cracking a little. In saying that, its large and well-placed. Its just a shame they didn't put as much into the symbol as the hoodie.
Submitted 10 years ago
2.0
Design was great, but I was disappointed in the quality of the hoodie itself.
Submitted 10 years ago
Becca
Philadelphia, PA
5.0
I purchased this hoodie for a friend's birthday and it was perfect. The quality of the sweatshirt was great, it's a little on the thicker side, and it feels like it's well made. The colors are true to the picture, and I know she's going to get a lot of use out of it.
Submitted 8 years ago
Todd
Nothwest Ohio
5.0
High quality material. Logo is sharp and in perfect proportion to the shirt. Definitely recommended for any Nightwing fan.
Submitted 10 years ago
Corey
BRATTLEBORO Vermont
5.0
Ordered it back durring the sleepy sunday sale and got it a couple days after, and I...LOVE IT!!! So warm and comfy and everyone in my school wears a batman.shirt but you find out who your fellow nerd fans are with a nightwing shirt. Iver all the only complaint i have is that out if the bag the hood is rather pointy so i feel like Ben Kenobi on Moss Eisly in Episode 4, but I digress Great shirt and i will be buying something else soon, mayne if a batman beyond hoody became available or as mentioned by a review before me a Damien wayne Robin themed HOODY/shirt. THANK YOU!!!!
Submitted 10 years ago
scuba
dover, VT
4.0
So i have had this shirt for maybe 3another weeks now and i was expecting the symbol to maybe cracl a little in the wash, but it is turning white a.d becoming an eyesore. I dont have any other cloths that do this the way my nighrwing shirt does, blah
Submitted 10 years ago
Kamu, Blogger and Nightwing Enthusiast

5.0
Super warm and also Nightwing. The only complaint I have is that the drawstrings get uneven a lot but that's just my OCD talking so it's not really relevant. I wear this every day it's really great!
Submitted 10 years ago
Kahlolily
Texas
5.0
The jacket is exactly like it is pictured, the material is of quality grade, and my son loved the fit.
Submitted 10 years ago
Raches
Ontario, Canada
5.0
Decal quality is excellent and so is the hoodie itself - not to mention very comfortable and warm! All in all it's worth it... Nightwing. <3
Submitted 10 years ago
David Sebastian
Prague, Czech Republic
5.0
Love this new hoodie alongside my Puma shoes in the same color scheme :) Only con is with importing it to the EU (toll-house and hours of procedures), which kind of stops me from buying more clothes :(
Submitted 9 years ago
Hehehe
SF, CA
5.0
Comfy, keeps me warm. Perfect logo size.
Submitted 9 years ago
5.0
Bought this hoodie for my daughter, she Loves it! I did order a size larger after reading comments and the fit was perfect. :D
Submitted 10 years ago
Ashley
Philadelphia, PA
5.0
Really comfortable and it fits really well. Looks great too.
Submitted 9 years ago
DC fan for life
Elkton MD
5.0
At first I was worried that the quality of the sweatshirt was going to be cheap. It is by far the best sweatshirt I have purchased online! Soft in the inside a tight thread on the outside. It was delivered unbelievably fast, which was a savior against the cold. If you are looking into a sweatshirt that you can flaunt to all your super hero geek friends AND you want to stay warm three seasons of the year, I recommend this sweatshirt.
Submitted 9 years ago
Maddy
Toronto, Ontario
5.0
The sweater came out great! The symbol is big and nicely printed and the sweater is super warm! I'm really happy and excited for this fall/winter season!
Submitted 10 years ago

Toronto, Canada
5.0
Overall a dope hoodie, and its actually good material too!
Submitted 10 years ago