Spiderman Sublimated Costume Fitness T-Shirt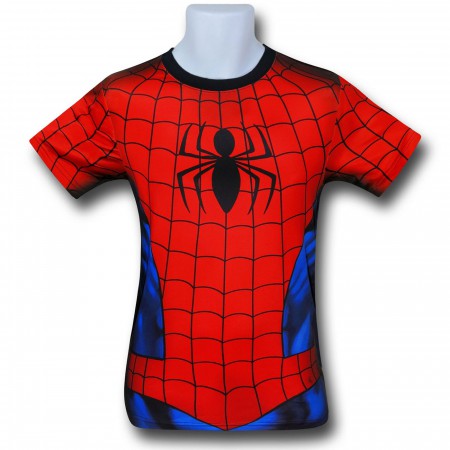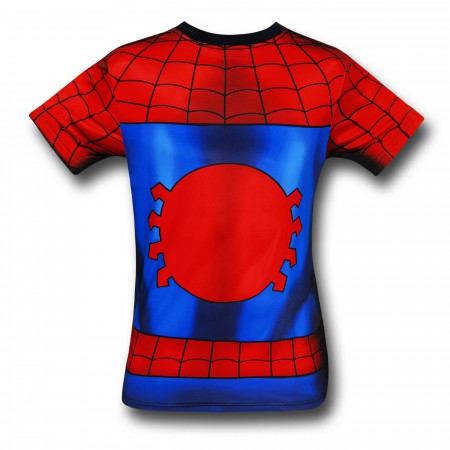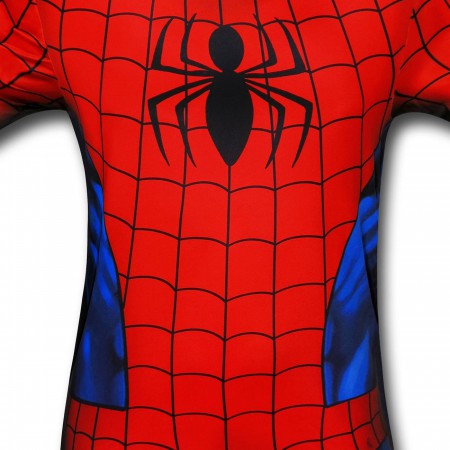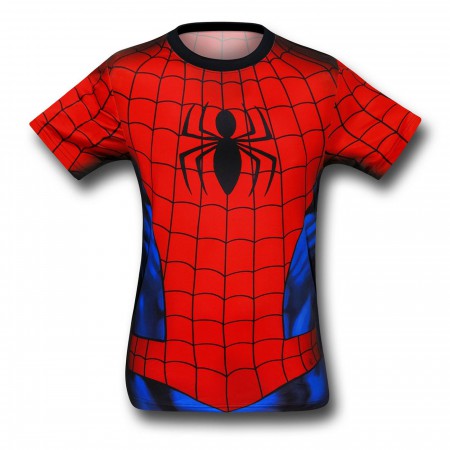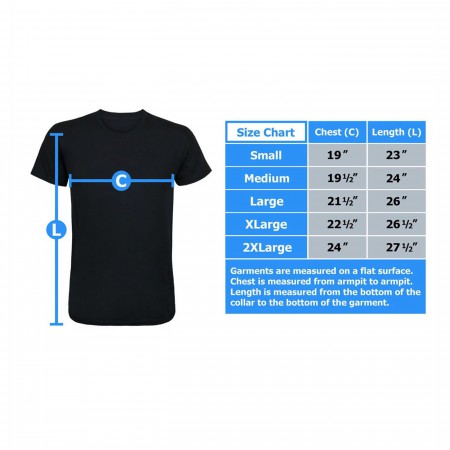 Spiderman Sublimated Costume Fitness T-Shirt
We are not planning on bringing this item back currently, but we'll let you know if that changes!
We'll let you know as soon as the item is back in stock!
The 92% polyester 8% spandex Spiderman Sublimated Costume Fitness T-Shirt may help you snag the Peter Parker roll when they decided to reboot it...again...and again! Which number are we up to now? Bah, I don't know! Soft to the touch and of exceptional quality, the Spiderman Sublimated Costume Fitness T-Shirt looks just like the iconic red and blue costume made popular by the Amazing Spider-Man as he defeated the Macho Man. Wait, no, that was a different Spider-Man movie. See what I mean? You need this shirt and to get that role!
More Details
Product Brands:
Spider-man
Product Category:
Clothing & Apparel,
T-Shirts
Reviews of Spiderman Sublimated Costume Fitness T-Shirt
5.0 (Based on 31 reviews)
Yer friendly neighbourhood Spider-fan
Vancouver Island, BC, CANADA
5.0
I was concerned about sizing because another brand had a similar item and it fit small... so I got the 2XL. NOT THIS ONE!- I wish I ordered (and will probably will now) the XL version. The cut is generous for a North American sizing. I like THIS version better because it has the giant blue bug design on the back making it more comicbook authentic. I'm surprised there is still stock left. Hoping Venom is next as well as Carnage.... bring on the badd guy versions PUH-leezzzzz!!!
Submitted 9 years ago
Spidey94
Cheraw, SC
5.0
It arrived very fast, perfect fit! The colors are so vivid. Look forward to buying from here again soon :)
Submitted 8 years ago
Alexander
Montreal, CA
5.0
Super cool product. I'd recommend it to others.
Submitted 8 years ago
Parker Peters
Thwip?
5.0
This shirt is amazing like the guy who wears it best, the quality is really nice, so soft, and the coloring is vibrant and one with the silk like stretchy fabric. It runs just a tad bit large only a little. My medium is as big as a few large shirts I have but thats just me. Cant wait to wear this to the gym I can already tell it will really breathe well and it compliments the torso. You will feel like Spidey in this shirt. Nothing can stop you, you're awesome. If you want to feel like a superhero, buy this shirt.
Submitted 9 years ago
Larry Kimmich
El Paso, TX
5.0
I use the shirt in they gym. I get many compliments and where did you get it. The shirt breaths well and endures weekly washing and stays looking great. I like it, with 3XL was more readily available in others.
Submitted 7 years ago
Your friendly neighbourhood Spider-fan
Van.Isle, BC, Canada, Earth
5.0
The shirt is meant for a SuperHero workout. great quality shirt and sizing is proper- when they mention this is a size then believe it. great fit Super comfort Amazing deal!!! Grabbed this one because it was more authentic to the Spiderman design having the big blue spider on it's back. This is my 3hird time dealing with SuperHero Stuff and I will be back agin. See y'all at the Emerald City Comic Con.
Submitted 9 years ago
SpiderWoman
Canada
5.0
If you want to show off your muscle, then this is the shirt to do it in. Show off your Super Human Strength : ) !!
Submitted 9 years ago
Skydive1
Palos Hills,IL
Submitted 9 years ago
Duster-Man
Canada, Ontario
5.0
When I first got this I was really impressed. Was impressed by the quality and the colour. I use it when I play In the Groove. In fact I love it so much that I ordered more shirts like this and I can't wait for them to arrive.
Submitted 8 years ago
Jay, Nerd
South MS
5.0
Amazing look and feel! Hope more hero shirts come out!
Submitted 9 years ago
Sue
Oklahoma City, OK
5.0
My grandson really liked this shirt. He wears it as often as he can. A very nice company to do business with.
Submitted 8 years ago
Anatzu
Sequim, Wa
5.0
It fit really good and looks great!
Submitted 8 years ago
Nigel, Vigilante
Toronto, Ontario
5.0
This shirt is amazing! When I bought a sublimated shirt before I got it in a medium (I'm between a medium & a small) but for Spidey I went with a small and it fits perfectly. Nice and tight across the chest and shoulders and a bit loose in the waist (not tapered). My girlfriend loves Spiderman, now she loves him just a little bit more ;) Def go smaller on the sizing in this one, got a medium of the Wolverine fitness shirt and it fit my Dad (he's a large). Not a second-skin fit unless you're a pretty filled out medium.
Submitted 8 years ago
narcolepticjedi
The belly button of New York
5.0
Looks as good in person as it does on the web. Not super elastic but doesn't bunch up either. Works great as an under-layer in the cold weather.
Submitted 9 years ago
Wendy
Corona, CA
5.0
My son is very happy with his shirt, it was exactly what he wanted. Customer service is amazing! I bought this shirt for my son's dance that was one week away. When I placed the order I accidentally ordered the wrong size, after hours, on a Friday night. I called and left a message, hoping I would get lucky enough it would get caught before shipping. First thing Monday morning, I had a voice mail saying it had been taken care of and was already ready to be shipped out. We received it two days later. I would highly recommend the website and will shop here again.
Submitted 8 years ago
spiderman fan
Tucson, AZ
5.0
Looks awesome and feels soo good!
Submitted 9 years ago
Eric
Palos Hills, IL
5.0
Got this shirt as a birthday gift, got it in a medium but fits like a large. I use it for jiu-jitsu competitions been through hell and back with it for a year and still no fading or tears. Great shirt thats guaranteed to get you many looks and complements.
Submitted 7 years ago
Otavio Raupp
Rio de Janeiro, Brazil
5.0
It feels great and it looks amazing! When I first decided to give one of there fitness t-shirts a try, I was wondering how cool they could be, and they are more than cool, they are amazing! Now I want all the others!
Submitted 9 years ago
Stefan
Biarritz France
Submitted 8 years ago
Big J
Pittsburgh,PA
5.0
As a Spider-Man fan, this T-Shirt is so far the best costume T-Shirt! It is light weight and you can't beat the price for how awesome it looks! I wear Large T-Shirts, but went to a medium do to the size chart. It fits find with some room for me.
Submitted 7 years ago
Andrew
Randolph, NJ
5.0
Fit perfectly and made for an awesome photo during my wedding!
Submitted 6 years ago
James A Nash Jr
Lansing, Illinois
Submitted 6 years ago
Andrew
Kankakee IL
Submitted 6 years ago
Steven, jackie estacado
Rotterdam netherlands
3.0
A bit to wide around the waist but overall, good.
Submitted 6 years ago
JR
St. John's, NL
5.0
One of the most comfortable articles of clothing I've ever worn. Feels great. It's a good size, but not form fitting. When I get my next shirt of this type, I'll probably try a size smaller.
Submitted 6 years ago
Miha
Ljubljana, SLO
Submitted 6 years ago
Yoann
Marsannay-la-Côte, France
4.0
This t-shirt is amazing but the quality has changed and I was disappointed. Finally i am very happy
Submitted 5 years ago
Josh
Canada
Submitted 5 years ago
Al
Concord,NC
5.0
Very good color contrast combination, great fit and comfort. Material is wrinkle resistant!
Submitted 5 years ago
Rick
Portland, OR
5.0
Well-made, very comfortable. Sensational!
Submitted 5 years ago