Superman Space Flight Sublimated T-Shirt
$37.99
5.0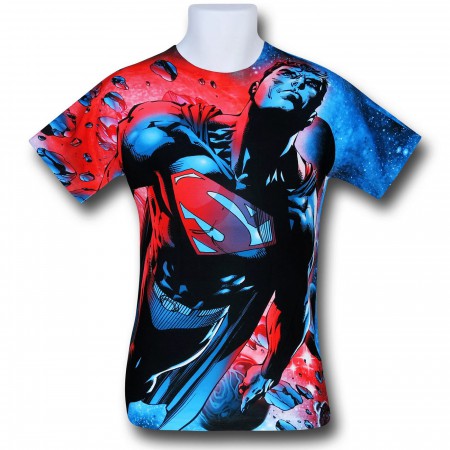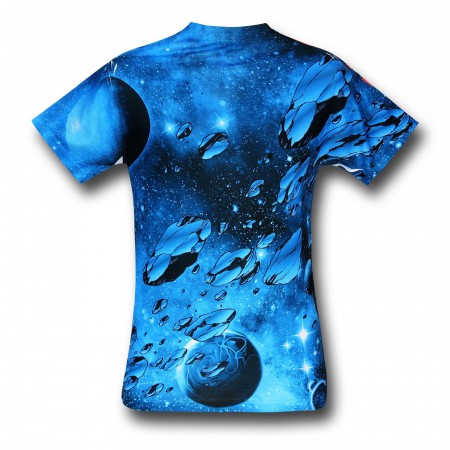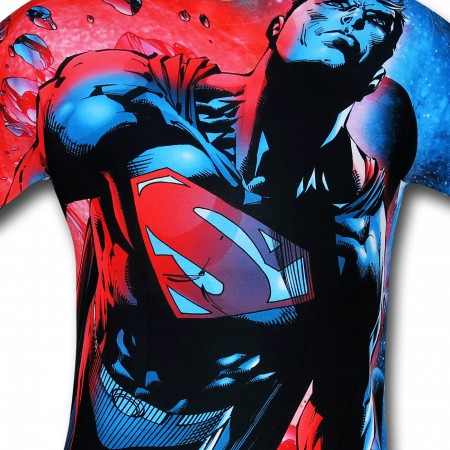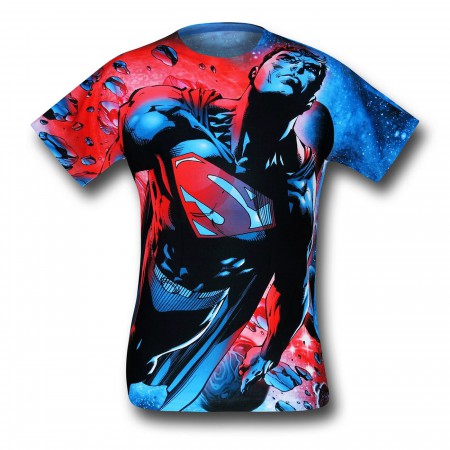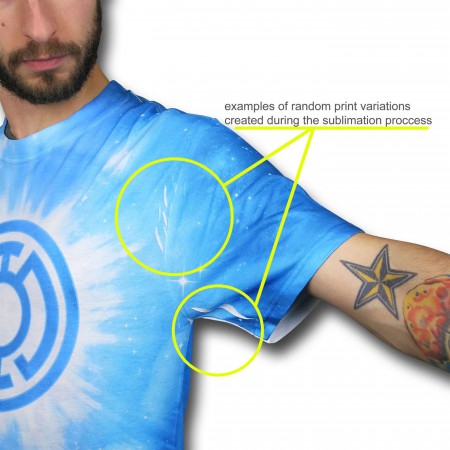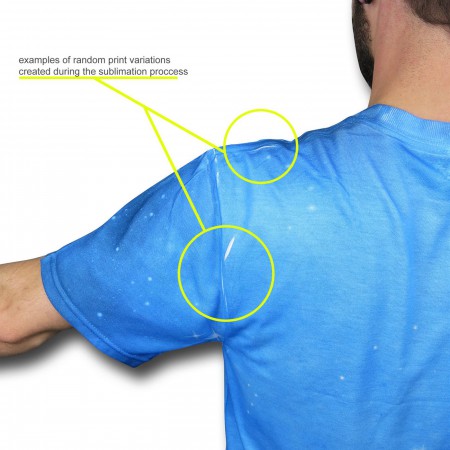 Superman Space Flight Sublimated T-Shirt
$37.99
5.0
Shipping & Handling
Ships direct from manufacturer
The Superman Space Flight Sublimated T-Shirt is made from 100% polyester and shows off how the Man of Steel gets away from people for a little bit. He can't just turn off his cell phone like the rest of us; he can hear a caterpillar and grasshopper fighting to the death somewhere in Uzbekistan at any given time. However, in space you can't hear a thing! Score! The ultra quality Superman Space Flight Sublimated T-Shirt has an all over print that covers this entire shirt and displays Superman on the front while the cold vacuum of the beyond fills the rest of the shirt. Who needs yellow sunlight, right?
These are not your typical shirts; sublimation is a viable and durable solution to the industry standard of ink jet heat transfers. The sublimation process takes a large sheet of ink soaked paper heated to ridiculous temperatures which causes the ink to literally bind to the fabric. This causes the shirt's image to become amazingly resilient to the ravages of time! 

This technique can result in small imperfections, generally around the armpit, seams, and stretched spots on the shirt. It is something that is intrinsic with this process but it makes each shirt wholly unique.
*Note: This products ships direct from the manufacturer with standard shipping to the United States only. This item may arrive at a different time than other items in your order. Please allow up to an additional 3 business days processing time
*Note: This product ships direct from the manufacturer with standard shipping to the United States only. This item may arrive at a different time than other items in your order. Please allow for additional processing time.
More Details
Product Category:
Clothing & Apparel,
T-Shirts
Reviews of Superman Space Flight Sublimated T-Shirt
5.0 (Based on 10 reviews)
Michael Castle
Brisbane, Queensland, Australia
5.0
An amazing shirt with it's vibrant rich colours that really make it stand out and a great design to boot... I've bought 20 + items from this company, so obviously they're doing something right.... Plus you can't get these sorts of items in Australia...
Submitted 6 years ago
James, Renaissance Hero
Los Angeles, CA
4.0
This print is pretty badass. everyone notices-- front and back are really cool graphically. This sublimated t-shirt came to me in good condition, without blemishes, so I don't have any complaint like I did the Flash t-shirt. My only concern is what it will look like when I wash it... I hope it holds up!
Submitted 7 years ago
Mike
Rockledge, Florida
4.0
This is a great shirt and the only reason I gave it 4 stars instead of 5 is because the sizes run smaller than normal. I bought 6 different T shirts all in XL and all of them fit true to size except this one, it was tight. Otherwise its an awesome shirt. I would just suggest you order a size bigger than you normally wear for this design.
Submitted 7 years ago
mig_81
Poland
5.0
When I got it I knew that was a very good buy! Colours are very much alive, quality and size is great. My friends of course commented it positively. T-Shirt worth of its price. I recommend it very much to every Marvel and Superman fans!
Submitted 7 years ago
LCpl Rates
Pensacola, FL
5.0
I've gotten so many compliments on this shirt. Every time I wear it I'll get numerous
Submitted 5 years ago
Coreene, Wonderwoman fan
Portland, OR
5.0
I bought this for my Superman Fan of a husband for Christmas. He loved it! It's made of a very thin fabric and needs to be washed very carefully. He said it was his favorite gift this year. Score 1,000 points for wifey!
Submitted 7 years ago
FilosoferKing
Orange County, Ca
5.0
This shirt is awesome! It looks amazing and it feels great. I was concerned about the way it would fit, but it fits true to size. I bought the medium and I have an athletic build and it fits perfectly. The polyester material feels soft also which makes it even better. If you like it, buy it! Its worth every penny.
Submitted 6 years ago
Supa Fly IT Guy-DeAndre'
Washington, DC
5.0
This shirt is a super choice when looking for something unique and eye-catching! I am a fan of Superman and Batman, and this shirt was part of a very large order of 2 Hats, 2 Belts, 2 Belts, and 2 watches of Superman & Batman related items. I must say this is one of my favorite shirts to wear along with my Superman hat and leather jacket, I even wear it to work and featured it in my latest YouTube video. I love this shirt and plan on buying more. It runs form fitting and not as large as the other shirts. It is very colorful and creative, with such a nice layout. I have washed it several times on the recommended settings and it has held up well. You can even get it on sale most of the time with a coupon. Buy this shirt! I promise you will love it, I know I do, I wear it as often as I can with all the other awesome gear from SuperHeroStuff.com, check me out to see me actually wearing it on my Instagram: Mr_SwaggSoSeriouS -The Supa Fly IT Guy- DeAndre' P.S. Thank you guys at SuperHeroStuff, their customer service is excellent, and I will remain a loyal customer because of it! You guys are awesome!
Submitted 6 years ago
R
Ireland
5.0
I bought four sublimated t-shirts, one of which was this. Brilliant image, very clear, very dynamic, very impressive. Also I must say I found Superherostuff to have THE VERY VERY BEST customer service!!! They clearly also have Superhero staff!!! Cannot thank them enough, exceptional customer service. Will buy more t-shirts here definitely!
Submitted 5 years ago
Francisco Anderson
NM, United States
5.0
Another amazing awesome shirt. Got a lot of compliments on it.
Submitted 4 months ago